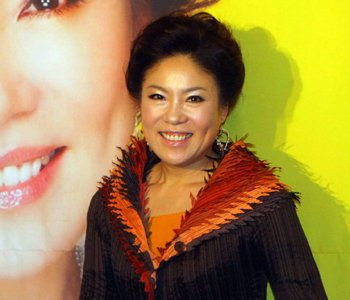 Korean enka singer Kim Yon-ja who had spent most of her career in Japan will perform at the Sejong Center for Performing Arts in central Seoul on March 12 and 13.
Marking the 40th year of her debut last year, she has been making concert tour nationwide. The upcoming concert in Seoul is special to her in many ways. "I have performed in many dinner shows, but it is the first time to hold a concert in Seoul," Kim said. "I said it`s my dream to hold a concert in Sejong Center and it has come true."
Kim worked with hit songwriter Yoon Il-sang last year, to release new album "Amor Party," and sang in various places in Korea. At the upcoming concert, she will sing "Mercury Lamp," "Within 10 Minutes," "Amor Party" and "Jaengijaengi" among others.
Kim, who made her debut in 1974 with the song "Tell Me," went to Japan in 1977 and is considered the first Korean singer that led the Korean Wave. In 1981, Kim rose to stardom with teuroteu (an oldest form of Korean pop music) medley album "Bouquet of Songs."
She also earned popularity by singing in Japanese lyrics "From the Morning Country," a theme song for the 1988 Seoul Olympic Games. Following the success, Kim saw her songs "Amyahangro," "Tosaho`s Song" and "Hot River" become a huge hit in Japan as she became a top enka singer in Japan. In 2001 and 2002, she was invited by North Korea to perform in Pyongyang.
imi@donga.com