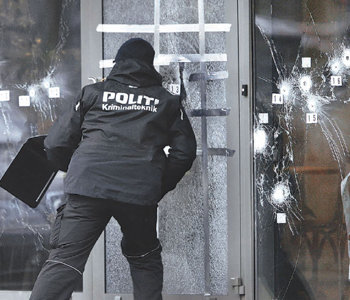 A shooting incident suspected as a terrorist attack took place around a residential area, a train station and a Jewish synagogue in the Danish capital Copenhagen from Saturday afternoon to early Sunday morning. Due to the shooting, two civilians lost their lives and one suspect was killed. As Copenhagen, known as one of the safest cities in Europe, was under attack in just one month after the terrorist attack in Paris, Europe is again in panic over terrorist attacks.
BBC reported on Sunday that there were three shooting incidents suspected as terrorist attack by Islamic extremists in the city of Copenhagen, leaving three men including the suspect dead and five injured. The first shooting took place at Krudttoenden cafe in the residential area of city at 4 p.m. on Saturday. At that time, Swedish cartoonist Lars Vilks (aged 68), who has been a target of attacks, planned to talk at an event entitled Art, Blasphemy and Freedom of Speech. Vilks has been under constant death threats over his depiction the head of Prophet Mohammed to a stray dog's body in 2007.
The second attack happened in the vicinity of a Jewish synagogue at 2 a.m. on Sunday, about 10 hours later the first shooting, resulting in death of one Jewish and injuries of two cops. The Copenhagen police said policemen killed the man who opened fire on police surrounding the train station in the Norrebro district. This man is known to be a person involved in the first shooting spree at the cafe.