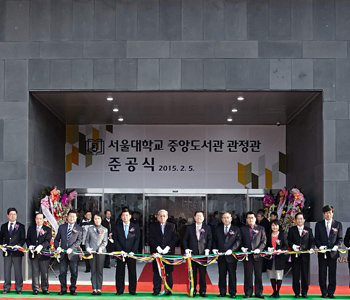 Seoul National University's Central Library Kwanjeonggwan opened on Thursday.
Gwanjeonggwan's completion ceremony was held at 3 p.m. with Seoul National University President Seong Nak-in, Kwanjeong Educational Foundation Chairman Lee Chong-hwan, former National Assembly Speaker Kim Jae-sun, and former Prime Minister Lee Su-seong in attendance.
Kwanjeong Educational Foundation Chairman Lee Chong-hwan, who donated 60 billion won (approx. 55 million U.S. dollars) for the library, expressed his wish, saying, "It is my sincere hope that Gwanjeonggwan can set the academic stage not just for the intellects in Korean but also for the greatest mind in the world."
Having its groundbreaking ceremony in May 2013, the library had been under construction for 21 months with over 10 billion won (approx. 92 million dollars) of funding from SNU faculty members, workers and alumni.
An eight-story building, Gwanjeonggwan is equipped with various facilities such as large-sized reading room and study rooms for groups of students. SNU's newly-opened library is the largest one in Korea with the largest volume of books.