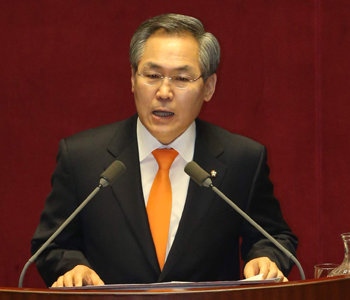 Woo Yoon-geun, floor leader of the main opposition New Politics Alliance for Democracy, proposed on Wednesday "to set up a 'parliamentary special committee on constitutional amendment' during the February session of the National Assembly to shift to the 'semi-presidential system based on direct election,' and to hold a public referendum at the general elections set in April next year."
In his speech as party representative at the meeting of parliamentary negotiating blocs, "Now, the most important thing is not to create a 'great president' that is outdated, but to establish a 'great system,'" he said. "We should elect the president through direct election, but should have the president as the head of state hold emergency powers such as capacity of the commander-in-chief of the military and the right to dissolve the parliament, and have the prime minister who is elected by the National Assembly actually take charge of the Cabinet."
Floor leader Woo seems to have judged that since the ruling Saenuri Party's leadership has been formed by members of "the non-pro Park Geun-hye faction," it would serve an opportunity to launch a campaign to discuss constitutional amendment.
"We have nothing to say (regarding constitutional amendment)," Saenuri Party floor leader Yoo Seung-min rebuked. "The idea of public vote went way too far, and it would be important to gather opinions from lawmakers within the party."
Saenuri Party Chairman Kim Moo-sung also ruled out the possibility for a public vote, saying, "(Public referendum) is not something that can be decided by a single person."
Meanwhile, Woo proposed to set up a "special pan-national committee on taxation reform," which would address controversy over a hike of corporate tax, within the National Assembly.