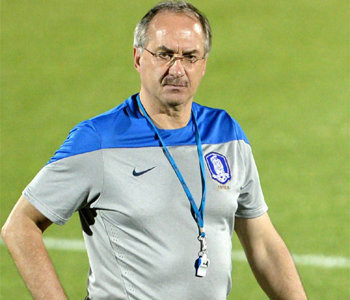 Advance to the quarter final match, or No. 1 in the group….
The Korean national team under Coach Uli Stielike is facing deep agony anew. The team plays the third match of the group league against the event's host, Australia, at Brisbane Stadium at 6 p.m. on Saturday. Team Korea can rank No. 1 in its group only when it wins the match. Korea is currently tying with Australia with six points each, but is trailing the latter in the goal tally (Korea +2, Australia +7). Australia will advance to the quarterfinals as No. 1 in the group, only if it ties with Korea.
Coach Stielike told a press conference on Friday, "If you ask whether the match against Australia is more important or the quarterfinal match is more important, the latter is more important. However, we could also fight to secure No. 1 spot in the group as well." The coach thus displayed his commitment to stage a do-or-die battle in all matches, but considering the reality Team Korea is facing, ranking No. 1 in the group is a mission that is hard to accomplish. To defeat Australia, the Korean team should deploy the best 11 players, which is not very likely under the current circumstance.
For one, chances are high that Team Korea's flagship striker Son Heung-min, who is suffering from cold, will stay in the bench or play as substitute, rather than starting in the match against Australia. A source in the Korean team said, "We decided to take a long-term perspective with Son Heung-min in order to be prepared for the quarterfinal match." Coach Stielike follows the principle of deploying a player in his best physical and mental condition. He does not allow a player even in 90 percent of his best condition to play. Given this principle, there is a slim chance that Son will play in the match. Son, who did not play in the match against Kuwait, skipped training for five days as well. Ku Ja-cheol, who has symptom similar to that of Son, also took rest for four days. Ku resumed training starting from Thursday, but he is reportedly not in physical condition to display 100 percent of his performance at the match against Australia. "There is no reason for Korea to play the match against Australia by mobilizing its best resources at disposal, because it has already secured a berth to the quarterfinals. The team's goal is to advance to the final," SBS soccer commentator Park Moon-seong said.
However, Coach Stielike, who desperately needs reversal of the mood after giving huge disappointment to soccer fans in the previous two matches, may seek to stage an all-out battle by deploying the best 11. "Just to boost the morale of Team Korea that is in downbeat mood, Korean players need to regain self-confidence through a victory over Australia," KBS soccer commentator Han Joon-hee said. "Coach Stielike will consider this situation and try his best to beat Australia." It remains to be seen which measure Stielike will choose to take, after having a "sleepless night" in Australia.