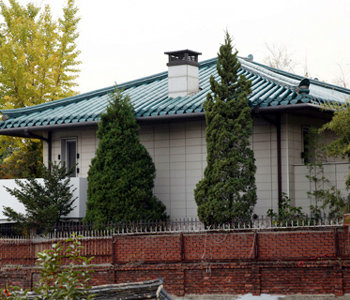 The Seoul City government has completed the lease contract for the new official residence for Seoul Mayor Park Won-soon, who currently lives in an apartment in Eunpyeong New Town. He will move to a detached house in Gahoe-dong, Jongno District, early next month.
The city government said Wednesday, "We signed the contract for the new residence with its owner. The terms of contract, as announced previously, will be 2.8 billion won (2.55 million U.S. dollars) for two-year jeonse (housing rental system of full deposit payment up-front) contract."
Park had moved to the mayoral official residence in Hyehwa-dong in 2011 after he was elected mayor at the October 26 by-elections. And two years later, he moved to Eunpyeong New Town. Since being elected in 2011, the new residence will be his third one.
The new residence is on a land of 660 square meters in size with total floor area of 405.4 square meters. The western-style two-story house has a basement, seven rooms (excluding a small room in basement) and five bathrooms. About 30 million won (27,337 dollars) has been earmarked for renovations, such as wallpapers and curtains, and a newly furnished conference room. The trees in the garden will also be branching out. Moving costs will be decided after selecting a moving company.
Only "Daebagi," a Jindo dog and residence guard dog, will follow Park to the new house. "Huimangi" and "Seouli," the two Jindo dogs who were sent to Seoul Grand Park in October last year after being kept at a pet dog training center in Ilsan, Gyeonggi Province, will unlikely to follow the mayor, the city government said.