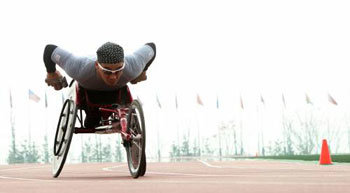 "The torch is not put off yet," physically-challenged athletes say.
Though the Guangzhou Asian Games are over, the Asian Para Games are approaching. Yoo Byeong-hun, a wheelchair track and field competitor, tries out the track in a training center for the disabled in Icheon, Gyeonggi Province, two days before the opening of the Para Games.
The event`s name was shortened from the Asia Pacific Para Games to the Asia Para Games this year. To start at Aoti Main Stadium in Guangzhou on Dec. 12, the competition will feature 5,500 athletes from 45 countries competing in 18 events (19 specific events) for eight days.
Korea, which aims for third place, will send some 300 athletes after holding a send-off ceremony at the training center Monday.