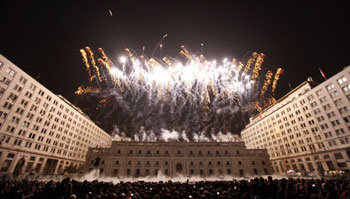 Former U.S. President Jimmy Carter has quoted Chinese Premier Wen Jiabao as saying North Korean leader Kim Jong Il has denied a power transfer to his youngest son Jong Un.
In a report on his visit to China posted on the Carter Center`s homepage, Carter said, "When I met Prime Minster Wen Sept. 6, he surprised our delegation."
Carter quoted the Chinese official as saying that when Kim Jong Il visited Beijing last month, he called speculation that the North Korean leader would transfer power to his youngest son "a false rumor from the West."
The former president said he was surprised over hearing this and added that more time is needed to confirm the truth behind North Korea`s power transfer.
Saying Wen showed great interest in his recent visit to Pyongyang, Carter said the premier confirmed that the positive message Carter got in Pyongyang was the same as what Kim brought to China.
Carter went to Pyongyang Aug. 25 to free Aijalon Mahli Gomes, an American who was detained in the North, but failed to meet Kim. The former U.S. president made his seven-day visit from Sept. 4.
Carter`s comments came in the wake of the apparent delay of a convention the North Korean ruling Workers` Party, which was scheduled for early this month.
Sources on North Korea speculated that the postponement is related to an internal dispute in the North Korean government over Kim Jong Un`s succession.
On this, government officials in Seoul presented differing opinions. One said, "Carter`s comments deserve attention since they came when Jong Un failed to achieve his goal of being officially appointed as successor through the convention."
"The possibility of a power struggle between Jong Un and Jang Sung Taek, director of the administrative department of the Workers` Party, or a change of Kim`s plan to transfer power to his youngest son cannot be ruled out."
Another official said, however, "We believe Jong Un will take power. The delay of the meeting is due to flood damage. The North apparently judged that the damage is too severe to hold a feast."
Separately, Carter said in an article contributed to The New York Times Thursday that the North is sending strong signals that it wants to resume talks with the U.S. and South Korea for a peace agreement and denuclearization of the Korean Peninsula.
yhchoi65@donga.com kyle@donga.com