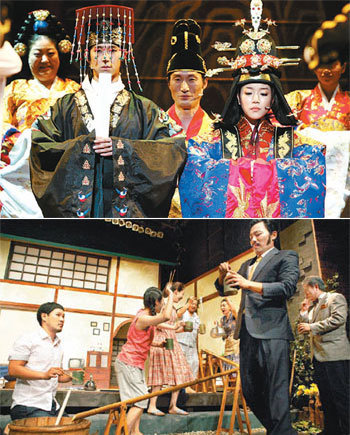 Yong, a theater in Seoul's Yongsan district, presented the musical "Gung (Palace)" Tuesday night in a vivid illustration of the popularity of Korean musical theater with foreigners.
"Gung" features Yuno Yunho, a member of the popular boy band DongBangSinKi, in his debut as a musical theater performer.
Large screens on the right and left sides of the theater displayed streams of Japanese subtitles during the performance, and the audience burst into laughter at the sporadic impromptu jokes of the actors in Japanese.
Whenever Yuno appeared, women in their 30s and 40s used their binoculars to monitor his every move as if watching a bird. Most of the women were Japanese tourists.
Yuko Tanaka, 36, said she came from Osaka to Seoul with her friend. "I took a vacation and reserved tickets for three performances of Gung," she said.
The musical's production company Group Eight said, "More than 400 of the 800 audience members were Japanese tourists," adding, "Most of the 800 tickets for the performance held Thursday last week, which marked Yuno Yunho's stage debut, were sold to Japanese."
The Korean Wave is growing in popularity at large-scale musical theater sites. "Navigation of Life," a musical featuring Korean stars Lee Joon-ki and Joo Ji-hoon, who are now fulfilling their mandatory military service, also attracted a flurry of married Japanese women in their 40s and 50s armed with binoculars.
This performance had no Japanese subtitles, but Japanese accounted for nine percent of the audience over the musical's 14-day run at Haeoreum Theater of the National Theater of Korea in Seoul.
Older Korean stars such as Ahn Jae-wook and Shin Seung-woo also have proven capacity to draw foreign fans. According to M Musical Company, the producer of "Jack the Ripper," Japanese accounted for more than 30 percent of all audience members of the musical staged at Seongnam Art Center south of Seoul from July 22 to Aug. 22.
As a result, more than half of the advance tickets to the musical "Rock of Ages," in which the two singers will perform, have been sold by Ticketpia, a ticket site in Japan, after tickets went on sale. The musical started playing at Woori Financial Art Hall Wednesday.
Meanwhile, works based on original Japanese plays are gaining popularity in Korea amid a Japanese Wave in the country.
The home drama comedy "If It Were With You," which was written by Japanese dramatist Koki Mitani, has consolidated its place as one of the top three plays in Korea.
Having premiered at Seoul's Daehangno district in July, the play has filled 90 percent of seating capacity with paying audience members. To start next month, the play will begin a national tour in provincial regions by doubling the size of the cast.
"University of Laughter," written by the same playwright, has enjoyed immense popularity at Daehangno as well. Banking on its success, the play was moved to COEX Art Hall in March and has a paying audience ratio of more than 70 percent.
While the Korean Wave in musical theater depends on singers and actors for success, the Japanese Wave in plays stems from the power of playwrights. Many movies and dramas that were big hits in Korea were originally written by Japanese writers.
Thus Korea needs to foster creative writers to ensure that the Korean Wave can go beyond mere ostensible growth.
confetti@donga.com