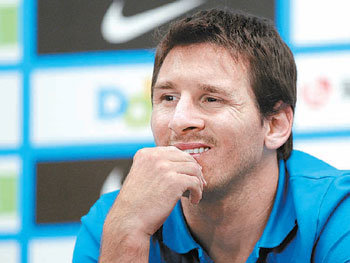 Soccer superstar Lionel Messi of Argentina arrived in Korea Monday to play in an exhibition game versus a K-League All-Star team Wednesday.
The game will also mark the 60th anniversary of diplomatic relations between Korea and Spain.
In a news conference at Mayfield Hotel in western Seoul, the FC Barcelona striker said, "I feel extremely tired after a long flight."
With a smile on his face, he added, "I slept over the entire flight. I can't even remember what time it is and where I am right now."
He was obviously exhausted and even caught yawning in his news conference.
Messi got more excited after the topic turned to soccer, however. "It's too bad I couldn't score a goal even with so many chances in the World Cup, but I'll try my best to score this time," he said.
"I had high expectations and wanted to get to the higher rounds of the World Cup. Now I`d like to only think about the league and promise to deliver a good performance."
After holding an open practice Tuesday, Barcelona will face the K-league All-Star team at Seoul World Cup Stadium at 8 p.m. Wednesday.
niceshin@donga.com