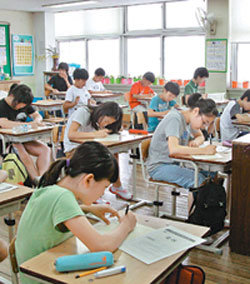 Public school students nationwide took an academic assessment test Tuesday amid tension between the government and progressive school superintendants over the disputed test.
Most of the students who took the test said they felt little burden, saying the questions were easy and that the results will not count.
At Choongmu Elementary School in Seoul's Jung district, all sixth graders except one who went abroad took the test at 9 a.m. Only four students had read books before the test to prepare.
One of the students who did not prepare said, "This will not be reflected in our school records."
A 13-year-old student at Sungseo Elementary School in Seoul's Mapo district said, "No student didn't take the test," adding, "I haven't heard that those who don't take the test should take an alternative class."
Parents were also unfazed by the test. A parent of a Sungseo student said, "Now that the test will be given, I hope it will be difficult so that students can assess their academic level."
○ Low participation in field trips
In Seoul, 39 test takers went on field trips to avoid the test, according to a preliminary tally. A school near Hongik University planned a field trip but canceled it due to lack of applicants.
A civic group opposing the national test expected 220 students to go on field trips instead of take the test, but a much lower number did so.
A student who went on a field trip said, "My father belongs to the Korean Teachers and Educational Workers' Union and told me not to take the test. So I'm here. I didn't know what I'd do here," adding, "I'm the only one who didn't take the test among my friends."
In Daejeon and South Chungcheong Province, 47 students went on field trips to Geumsan Gandhi School, 30 students in Gwangju and 27 in South Jeolla Province went to Suncheon Peace School or an ecological park in Suncheon Bay. The Ulsan chapter of the teachers' union said 17 students, including six would-be test takers, made a two-day visit to Sanchon Yuhak Center in Ulju County.
Seventeen of 37 students at Sancheong Gandhi School, an alternative school in South Gyeongsang Province, refused to take the test after attendance was taken.
Twenty-seven students in North Gyeongsang Province and 18 in Daegu took field trips as well. How many of them were required to take the test is unknown.
○ Alternative programs
Planned alternative programs were snubbed in most provinces excluding North Jeolla and Gangwon since no student refused to take the test after attendance.
Gangwon decided not to consider going on a field trip on test day as an unexcused absence. In the province, 137 students at 30 schools participated in alternative programs.
Of 240 juniors at Hongcheon Girls' High School, nine took an aptitude test in a computer room and read books at a library instead of taking the test.
A teacher at the girls' school said, "The power of education is realized through diverse educational programs such as alternative programs," adding, "This can be seen as conflict but it's meaningful since students are given a choice as educational consumers."
Confusion reigned, however, at schools in North Jeolla Province, which said participation in alternative programs will count as school attendance. There, 172 students at 31 schools snubbed the test.
A vice principal at a middle school in Jeonju said, "The North Jeolla Province Office of Education told us to allow students to decide whether to take the test, but the Education Ministry said it would punish teachers and principals who allow alternative programs. I don't know which instruction to follow."
yena@donga.com imlee@donga.com