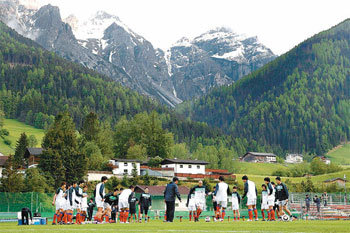 "In modern soccer, a player with weak physical strength cannot survive," said Korea's national soccer coach Huh Jung-moo.
"Korea made it to the semifinals in the 2002 FIFA World Cup since its players had physical strength," he said. "Soccer players are under significant pressure in games. Accordingly, they should make an all-out effort to build strength."
Members of the team got training Thursday at the Kampl training center in Neustift, Austria, and paid extra attention to strength building. All 26 players proactively participated in the training, though striker Lee Dong-guk (Jeonbuk Hyundai) trained privately due to injury.
Before the training session, players wore black vests equipped with wireless transmitters that relayed data on heart rate and moving distance to a central computer in real time. The computer helps the coaching staff to analyze player strength, tactics and performance capabilities.
After warm-up exercises, players were divided into four teams for intensive training.
The team's physical trainer Raymond Verheijen said, "Our team members are not weaker than any of their counterparts in physical strength. The aim of today's training is to help them keep in shape. They must also strengthen their body here at an altitude of 1,200 meters."
Korea will play its second World Cup Group B game against Argentina at Soccer City Stadium in South Africa, which has an altitude of 1,753 meters. After the 90-minute training Thursday, players were out of breath.
"Greece and Nigeria have not shown good performances in recent exhibition games, but we should not be off our guard," Huh told reporters. "Korea is still considered the weakest team in Group B. We shouldn't be afraid of our opponents but also not underestimate them, either."
The coach also said he will play most of his squad in Sunday's exhibition game versus Belarus in Kufstein, Austria.
niceshin@donga.com