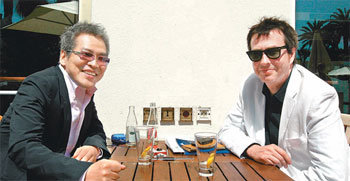 Korean movie director Im Sang-soo's "The Housemaid" will compete at this year's Cannes International Film Festival.
His second invitation to the festival follows his first in 2005, when his movie "The President's Last Bang" was screened as part of the event's Directors` Fortnight.
The director spoke Monday to the Locarno Film Festival's artistic director Olivier Pere, who introduced Im to Cannes as the general manager of the Directors` Fortnight. Their meeting took place at a café in Hotel Martinez nearby the Palais des Festivals.
Im said, "I had hoped to have a chance to see you again in Cannes," to which a smiling Pere answered, "It's my big honor and great pleasure."
Pere: In 2005, the majority of the panel said you were a great director. "A Good Lawyer's Wife" made me a big fan of yours. I was really impressed with the mise-en-scene of the movie, which reminded me of classic Hollywood movies of the 1970s.
Im: Back in 2005, my offer to submit "The President's Last Bang" to the Berlin Film Festival was turned down.
Pere: Everybody makes mistakes. Thanks to the mistake of the Berlin Film Festival, the Cannes Film Festival got you. (Laughter) Movies are selected by judges. At first glance, it appears fair but I believe it's the right way. That's why judges at film festivals feel a great sense of responsibility.
Im: I never imagined that "The Housemaid" would be invited to the official competition of the Cannes Film Festival. I got the script in September last year. Shooting took just two months. I was really surprised.
Pere: It's not surprising at all. It is a natural phenomenon showing the status of Korean movies in the world. The Cannes International Film Festival 2010 will be a great chance for Korean movies. You especially stand at the center of Korean cinema's popularity. Kim Ki-young's 1960 film "The Housemaid" was screened at the festival in 2008. Unlike Kim's movie, which has grotesque features, your movie is a sophisticated work containing biting satire.
Im: I'm not a big fan of Kim. I just know that he was a legendary Korean movie director. That could explain why my version of "The Housemaid" is different from his in detail and expression. While making the movie, I understood that he must've been a very attractive person. I want to make a movie on Kim's life story if given the chance.
Pere: I remember you showed me a script two years ago when you stayed in Paris. What happened to the project? It was really interesting. I could find traces of the script in "The Housemaid." The gap between rich and poor, class conflict, etc.
Im: I wanted to deal with discrimination in a more erotic way with the Paris project. The project's a bit different from "The Housemaid." A French movie studio turned down my offer to make the script into a movie. I'm a bit happy since I got my revenge on the movie studio by being invited to the Cannes. (Laughter)
Pere: Unlike other works submitted to film festivals, "The Housemaid" strongly appeals to the public. You always seem to make a movie while preparing yourself for your next one.
Im: Some people have asked me whether my invitation to Cannes will change me. People's attitudes toward me have changed, but I won't.
Pere: It's a big deal for a director to be invited to the official competition of a film festival. But I feel very relieved to hear you say so. I've seen many directors who changed after becoming famous.
Im: I know many directors who make similar movies after winning the Palme d'Or.
Pere: As expected, you're a very dangerous person. How can you say that in the middle of Cannes? (Laughter) Many directors lose inspiration as they get older. It's very sad. I hope your strong commitment will be a guardian of your movie world.
sohn@donga.com