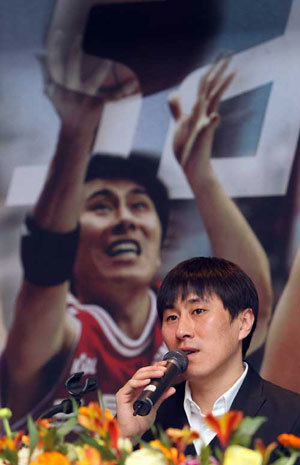 Veteran guard Lee Sang-min of the Korean Basketball League's Samsung Thunders announced his retirement yesterday after 13 seasons.
Lee, 38, one of the most popular basketball stars in Korea, had difficulty entering Taepyeongno Club in Seoul for his news conference. Around 100 fans flocked to the entrance and shed tears holding placards asking him not to retire.
Over his pro career, Lee averaged 10 points, 3.4 rebounds, 6.2 assists and 1.5 steals per game. He earned MVP honors from 1997 to 1999 and MVP of the league finals in the 2003-04 season.
Finally getting a seat with the help of seven security guards, the player also showed tears. "I've never had any regrets as an athlete and had so many happy moments. I want to start a new path. I'll live with my fans' love in my heart," he said.
As Lee began to speak, fans began sobbing here and there. One woman shouted, "Don't say anything. Just play more!"
On why he decided to retire with one year left in his contract, he said, "I've had a severe backache. I asked myself whether I can keep doing this. I decided it's no longer possible. I just gave up hope."
"I'd hoped to win the championship and then retire. That's what I feel sorry about. When I transferred to Samsung, I decided to play for just two more years, but I extended my contract because I felt we could win the title after Lee Seung-joon joined. But the result was bad."
Lee said he wants to become a coach. He will study in Canada and the East Coast of the U.S. after learning English there for the time being. "People say my fate makes many people around me cry. I don't feel good because I made my fans sad. But this is not the end. I'll be back and better," he said.
kjs0123@donga.com