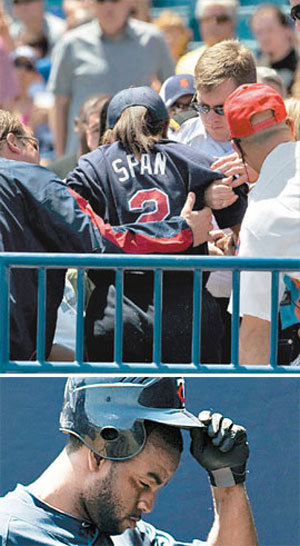 Pitcher Park Chan-ho of the New York Yankees has given no earned runs in five straight preseason games.
Against the Minnesota Twins at George M. Steinbrenner Field in Tampa yesterday, Park retired three batters in one inning. He struck out two batters with a fastball clocked as high as 148 kilometers per hour.
In a game against the Tampa Bay Devil Rays March 19, Park began his no-earned run streak. In his first five preseason games, he pitched six innings, allowed just four hits, and had seven strikeouts.
Park is expected to play setup man in the official start of the Yankees` season Monday.
He took the mound in the eighth with the Yankees trailing 4-1, and struck out Allan de San Miguel. He also got Delmon Young to fly out and struck out Dustin Martin.
In the game, a mother was struck by a ball hit by her son. In the first, Minnesota`s Denard Span hit a foul ball toward the Twins' third base dugout that hit his mother Wanda Wilson in the upper chest.
Span ran to his mother. Fortunately, she suffered a bruise and watched the remainder of the game. Afterwards, Span said via Twitter that his mother was fine.
In other action, Slugger Choo Shin-soo of the Cleveland Indians went 2-for-4 against the Chicago White Sox at Goodyear Ballpark in Goodyear, Arizona.
uni@donga.com