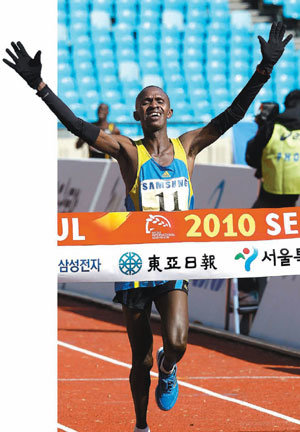 The 2010 Seoul International Marathon, also known as the 81st Dong-A Marathon, opened a new horizon for domestic marathons yesterday.
In the country's first event designated as a gold label road race, the highest rank approved by the International Association of Athletics Federations, Sylvester Teimet of Kenya, 26, came in first with a Korea-record time of two hours, six minutes and 49 seconds.
He completed the 42.195 kilometer-long full course from Gwanghwamun Square to Jamsil Olympic Main Stadium. His time was 17 seconds faster than the previous record set by Gert Thys of South Africa in 2004.
Teimet's time was also the 11th fastest in the world. Fellow countryman Gilbert Kipruto Kirwa placed second with a time of 2:06:59.
For the women, Amane Gobena of Ethiopia, 24, won with a time of 2:24:13, the world's second fastest this season. Second was Zhou Chunxiu of China, 32, with 2:25:01. Zhou set the record (2:19:51) for a women's marathon held in Korea in 2006.
Given the outstanding records by both the men and women, the Seoul marathon is expected to gain gold label status again next year.
Korean marathoners also fared well amid expectations over who the next Lee Bong-ju will be. Park Yeong-min of Kolon, 26, had the best time among Korean runners with 2:12:43, shortening his personal best by two minutes and 20 seconds. Park finished sixth overall in the race.
Konkuk University student Kim Min, 21, also shined with a time of 2:13:11 in his first attempt at a full-course race.
For the Korean women, Kim Seong-eun of Samsung Electronics, 21, had a time of 2:29:27, the best among Korean women and fifth overall.
In the masters' race, Jang Seong-yeon, 34, won the men's competition with a time of 2:27:07 and Jeong Sun-yeon, 36, claimed the women's title with 2:51:20.
A combined 23,000 marathon lovers enjoyed the festive mood while running the only course in the country cutting through a city center.