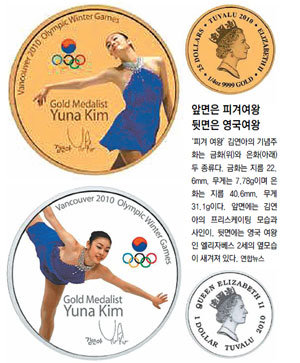 Commemorative coins will be issued next week to honor figure skater Kim Yu-na's gold medal at the Vancouver Winter Olympics, the Korean Olympic Committee said yesterday.
"We will issue commemorative coins to celebrate Kim's gold medal and share the moment of joy," it said in announcing Korea's first commemorative coin for an athlete.
The coins will come in gold (22.6 millimeters in diameter and 7.78 grams in weight) and one-ounce silver (40.6 millimeters in diameter and 31.1 grams in weight) varieties.
The head will contain an image of Kim's free skating performance and signature, and the committee's insignia. The gold coin will sell for 880,000 won (771.25 U.S. dollars) and the silver for 121,000 won (106.05 dollars).
The commemorative coins have three unique traits. First, they have been manufactured by the Perth Mint of Australia, not by the Korean mint. The coins are being circulated in Tuvalu in northeast Australia that has a population of only 12,000.
The face value of the coins is written in the Australian dollar, not in Korean won. The gold coin has a value of 25 Australian dollars (22.56 U.S. dollars) and the silver one Australian dollar (0.90 U.S. dollar).
The coins are manufactured in Australia and circulated in Tuvalu since Korea does not allow coins to be issued to commemorate a certain figure within its boundary. Commemorative coins in Korea also cannot be sold higher than the face value.
"The Bank of Korea Act stipulates that coins minted by the Korea Minting and Security Printing Corp. cannot be sold to generate added value. Accordingly, we had no choice but to manufacture the coins overseas," the committee said.
Hwadong, the company that sells the coins, said, "Since the coins are colored, we needed to look for a partner with the latest technology. Accordingly, we signed a contract with the Perth Mint in Australia. The Perth Mint got direct approval from Tuvalu to circulate the coins there. It will get royalties or commissions. It is possible for the coins to be circulated in Tuvalu, but unlikely that a person with the commemorative coins will visit Tuvalu and use them."
Hwadong has issued commemorative coins for the late President Kim Dae-jung made in Norway and those for Cardinal Stephen Kim Sou-hwan manufactured in Liberia.
Profits from Kim Yu-na's commemorative coins will partly be used to nurture sports in Korea.
creating@donga.com