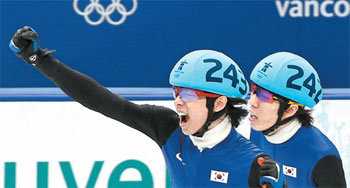 "It's like a dream."
Even before the thrill of winning his first gold medal a week ago had faded, Lee Jung-su stood at the top of the winners' podium once again. He said he always feels awkward in front of cameras but his bright smile was quite natural this time.
The Dankook University student got his second gold medal at the Vancouver Winter Olympics by winning the men's 1,000-meter short track final at Pacific Coliseum, setting an Olympic record with a time of 1:23.747.
Lee, 21, won the 1,500 meters Feb. 13 and is emerging as a star in Korea. His winning of medals is an ongoing process with the 500 meters and 5,000 meter relay competitions this week.
In the 1,000 meters, the race was neck and neck until the end. Lee trailed Korean teammate Lee Ho-suk, who was competing for the lead with Canadian brothers Charles and Francois Hamelin and America`s Apolo Anton Ohno.
With three laps left, Lee Ho-suk took the lead and Lee Jung-su remained in second. In the final lap, Lee Jung-su caught up with Lee Ho-suk and stretched his leg and celebrated victory after crossing the finish line by punching his right fist in the air.
Lee Ho-suk won the silver medal with a time of 1:23.801, just 0.054 second behind his teammate. Ohno won the bronze with a time of 1:24.128 to add to his silver claimed in the 1,500 meters.
Lee Jung-su's victory solidified Korea's status as the world's top country for short track. Since becoming an official event from the 1992 Albertville Olympics, Korea won five of the six golds in the men's 1,500 meters.
For the women, Korea succumbed to China in the women's 1,500-meter short track final. Zhou Yang won the gold with a time of 2:16.993, ahead of second-place Lee Eun-byul (2:17.849) and third-place Park Seung-hi (2:17.927).
Korea ranked fourth in the medal tally with four golds, four silvers and one bronze. The national team is likely to beat its previous bests of finishing sixth in the 1994 Lillehammer Winter Olympics and earning six golds in the 2006 Torino Games.
kjs0123@donga.com