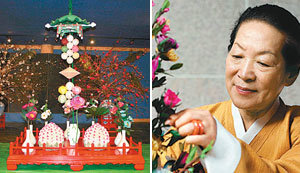 The jidangpan chaehwa, the highest quality ornament used at royal ceremonies under the reign of Joseon Dynasty King Sunjo, will be reproduced for the first time in two centuries.
Dongguk University professor emeritus Hwang Su-ro (picture), who has studied and restored chaehwas over the past 50 years, will release today the ornament at Samcheonggak, a small mountainside resort in northern Seoul.
Meaning "a flower made of silk," the chaehwa is considered to represent the essence of Korean culture.
The most representative type of chaehwa is hwajun, or large white porcelain vases measuring three meters high and containing flowers decorated on the left and right sides of the king's seat.
Making chaehwas takes a lot of time and effort, not to mention high handcrafting techniques. "A piece of hwajun requires 20,000 flowers. Around ten people have to work together for a year to create one," Hwang said.
Craftsmen must pick out and dye silk, cut the silk in the shape of flowers, press pieces of silk with a hot iron, and add colored threads to the silk flowers.
Chaehwa flowers are occasionally made of beeswax. Hwang said butterflies often fly into chaehwas made of beeswax.
She said making chaehwas is really hard but enjoyable. "If I begin making flowers, I don't go out that day. I feel really happy when making flowers. Each flower has different features since it is made by humans. It is the life of flowers. Encountering life every day is the attraction behind the chaehwa," she said.
Hwajuns made by Hwang are displayed at the National Palace Museum of Korea in Seoul's Gyeongbok Palace.
She referred to a book on royal court rituals held under the reign of King Sunjo to create the jidangpan chaehwa.
"Imagine a pond is moved to a play conducted at the royal court. A lamp is lit at the center of the pond and lotus flowers move upward. Literally, this is the panorama of a lotus candlestick," she said.
Experts on traditional Korean music also welcomed the jidangpan chaehwa, which could greatly help research on plays based on the country's traditional music. Hwang plans to donate a jidangpan chaehwa to the National Center for Korean Traditional Performing Arts next year.
Center director Park Il-hun will compose the song "Dongdasong" and dedicate it to Hwang at an event today.
Hwang will also hold a party today to commemorate her newly released book "Korea's Beautiful Chaehwa."
kplee@donga.com