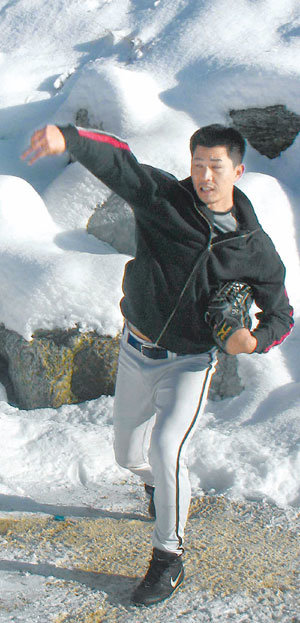 "Let's run to that mountain peak over there."
Three of us, including a Dong-A Ilbo reporter, started to climb a hill covered knee-deep in snow. It felt like walking on sand.
Despite freezing temperatures of minus 10 degrees Celsius, their bodies got soaked with sweat in less than five minutes.
As the trio entered more mountainous trails, one of them suggested, "Let's run from now," taking off his winter jacket. His face and hands got almost frozen, but his body emitted heat. A hawk flied overhead and alarmed by our footsteps, about five deer jumped away over to another ridge. The hill was like a nature preserve.
A temporary sign warned of the danger of mountain hiking (amid snow), which the three men blew off. After another 15-minute hike from there, the reporter became exhausted. Five minutes later, heavily fortified barbed wire warned of an off-limits area once again.
"The warning is probably because of the snow. Let's stop here for today," one of the men said, to which the reporter breathed a sigh of relief.
The trio returned to the home of the athlete's acquaintance at the foot of Mount Hwaak in Gyeonggi Province. He proposed doing a sprint. The three ran on a hilly trail extending about 300 meters. The reporter felt dizzy after the dash, and was told it was because of low oxygen levels in the mountain, which rises more than 500 meters above sea level.
The two athletes held several more sprints and began throwing and catching a baseball on the snow for more than 30 minutes. They then did a leg muscle exercise.
The day is short in the mountainous region in winter. The two ended their exercise around 5 p.m. One said, "We ran up ridges for more than three hours yesterday."
Dinner tasted great after exercising, with the menu being steaming chicken stew. The expression "A place where breathing itself constitutes exercise" seemed appropriate on this occasion.
Pitcher Choi Hyang-nam is entering the seventh year of his quest to join Major League Baseball of the U.S. "I'm confident I can make it to the majors," he said.
Playing last season for the AAA Albuquerque Isotopes, a minor league team of the Los Angeles Dodgers, he went 9-2 with an ERA of 2.34. This was not good enough, however, to warrant an invitation from the majors.
Also last year, he signed a monthly contract with the St. Louis Cardinals but was cut in spring training.
"Many players whom I struck out are in the majors. I simply need a chance. I've no choice but to work hard to ready myself for an opportunity, which could come anytime," he said.
Choi has nicknamed himself "40 man," but only turns 39 on March 28 this year. His fastball is clocked at 140 kilometers (87 miles) per hour, and his pitching skills are not considered outstanding even in Korea.
The outlook for his Major League bid looks bleak, and many say he simply will not make it. Yet he earned an invitation to the Dodgers training camp in Phoenix, Arizona, that starts Feb. 15.
"The very fact that they summoned a player near age 40 means they have high expectations of me. The coaching staff on my minor league team insisted on my promotion to the big league. I will have an opportunity to show my pitching to (Dodgers) manager Joe Torre in person this time."
Last year, Choi posted 77 strikeouts over 57 and two thirds innings with an average fastball of 138 kilometers (85.7 miles).
"When I throw a pitch, I can figure out how to handle the batter. In the past, I threw good pitches when I was in good physical and mental shape. I've since learned how to maintain a good balance even when I'm not in good condition," he said.
He added, "The Dodgers have a group of good pitchers but I'm confident I can make the team. If not the Dodgers, I could try other Major League teams through a trade."
uni@donga.com