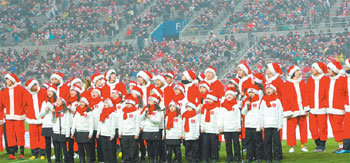 Despite the winter rain, the heat of love filled Seoul World Cup Stadium on Christmas Day.
A total of 13,785 spectators joined the "Share the Dream Football Dream Match 2009," a friendly soccer game hosted by the Hong Myung-bo Scholarship Foundation. Despite the cold weather and winter rain, children, parents, couples and senior citizens wearing Santa Claus hats saw the Korean national soccer team play the Olympic squad to a 4-4 draw.
Hong Myung-bo, the head coach of the Olympic team, has been hosting the annual event since 2003. All spectators except child cancer patients and underprivileged adolescents donated money to participate in the charity event.
Some 20 million won (17,000 U.S. dollars) donated by the fans will be used to send one young promising underprivileged player to Brazil for training. Byeon Soo-ho, who played for the Olympic team, was the first beneficiary.
Goalkeeper Kim Byung-ji, the first to play in 500 games in the K-League, participated in the event for the seventh year.
Spectators failed in their renewed attempt to enter the Guinness Book of World Records in performing a Christmas carol chorus, as their number fell short of the record of 14,750 people set in November 2007 in Chicago.
yjongk@donga.com