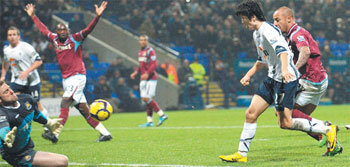 Lee Chung-yong yesterday scored his third goal of the season in the English Premier League in Bolton Wanderers' 3-1 home win over West Ham United.
Lee opened the scoring in the 64th minute in spectacular fashion. Penetrating the left side, he passed the ball to a teammate while heading into the penalty box. He got a return pass, gave the West Ham goalie a feint, and softly kicked the ball with his right foot to score.
He had scored his second goal of the season versus Everton on Oct. 26, and registered an assist against Manchester City Sunday.
Lee has emerged as a playmaker for his team. Moving right and left against West Ham United, he made accurate passes to teammates at opportune moments.
Sky Sports called his goal "great" and gave him a player rating of eight, a game high for both teams. He has received the highest player rating for Bolton in two consecutive matches.
The rookie has adapted to the league far faster than Park Ji-sung (Manchester United). Park had two goals and seven assists in the 2005-06 season, his first in England, and scored his first goal in his 25th match.
Lee has played in 14 of his team's 19 games this season, and has three goals and three assists.
KBS sports commentator Han Joon-hee said, "It is difficult to objectively compare the two players since the levels of their teams are different."
Nonetheless, Han cited four reasons for Lee being "set to succeed in the league."
The first is technique. Han said the Premiership is now a league where highly skilled players tend to succeed. "Gone is the time when players push through by banking on stamina and power only. Teams want players who excel in technique like Lee," the commentator said.
The second is Lee's speed, which the player uses to full advantage to compensate for his relative lack of physical strength.
The third is his passing ability. Han said Lee possesses a keen vision on the pitch in predicting where his teammates will go, and is also good at one-touch passes.
The last is team harmony. "Bolton has many players whose play is unrefined and rough. Under this circumstance, Lee's very existence on the team is like a welcome rain amid a severe drought. He stands a high chance to emerge as an ace for his team," Han said.
creating@donga.com