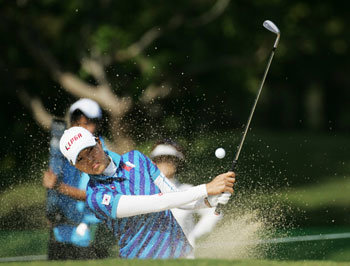 Korea crushed Japan yesterday on the first day of the Kyoraku Cup, or the Korea-Japan Women`s National Golf Team Match Play Competition, at Ryukyu Golf Club in Okinawa, Japan.
Playing for Korea was Shin Ji-yai, this year's U.S. LPGA Rookie of the Year and prize money leader; Jeon Mi-jeong, who has four wins in Japan this season; and Seo Hee-kyung, who led the Korean LPGA in wins and prize money this season.
Twelve players from each country competed in single stroke match play, with Korea losing just two of the 12 games. Since two points are awarded for each individual win, Korea dominated the competition's first day, 20-4, a record for the tournament.
In 2004, Korea won a round, 18-6.
The Japanese gallery produced rousing cheers early but grew discouraged when its national team fell significantly behind.
Ryu So-yeon, who played in the first group, defeated Yuri Fudo by two strokes. Lee Jung-eun in the second group rallied to beat Akiko Fukushima on the 18th hole.
Seo, who won the most prize money this season for a player based in Korea or Japan, bested Sakura Yokomine by two shots. This ended Yokomine's winning streak against Korean players over the previous seven Kyorakyu Cups.
Ji Eun-hee, winner of the U.S. Women's Open, defeated Ai Miyazato, the symbol of women's golf in Japan, by two shots.
Shin beat Ayako Uehara by making two birdies in a row on 17th and 18th holes after falling behind by a shot until the 16th.
Korea has won four Kyoraku Cups along with one draw and three losses. It can claim this year's edition with two wins and a draw in the second round today.
uni@donga.com