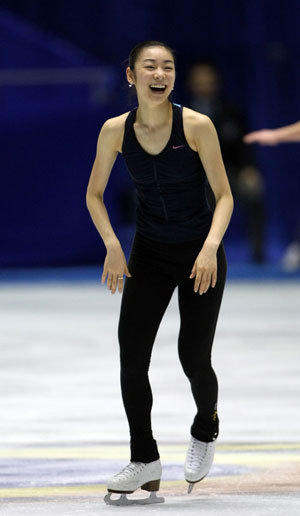 "Eight hours a day, 48 hours a week!"
This is what world figure skating champion Kim Yu-na wrote on her training time in the personal profile she submitted to the International Skating Union before this season started.
She said she spends eight hours a day practicing except Sundays, making no distinction between the season and offseason.
Kim has trained on an ice rink for cricket in Toronto since the end of 2006. She spends four hours a day on the ice and performs fitness training the rest of time.
Even athletes from other countries have expressed surprise over her fervor in training. Miki Ando of Japan and Ashley Wagner of the U.S. practice 28 hours a week, and Kim's former rival Mao Asada of Japan 23 hours.
There is no correlation between the amount of training time and performance on the ice, yet Kim's tireless efforts obviously are a major reason for her stellar success.
c r e a t i ng @ d o nga .c om