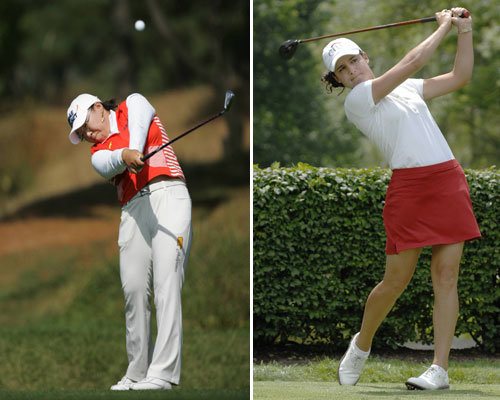 The Tour Championship, the season's final event of the LPGA Tour, will start at the Houstonian Golf and Country Club (par 72) in Houston today.
Shin Ji-yai will face Lorena Ochoa of Mexico for the Player of the Year award, the Bear Trophy for the lowest par fire, and the honor of most wins this season.
In the Player of the Year category, Shin leads Ochoa in points at 156 to 148. Media reports have also presented diverse probabilities, drawing attention from golf fans. Whoever wins this tournament will be crowned Player of the Year since the Tour Championship will award 30 points to the winner.
Shin holds an advantage in this category. If Ochoa finishes fourth or lower, Shin can win Player of the Year even if she earns no points in the event.
The 21-year-old Korean star is also aiming to win the LPGA honors of top player and rookie in the same season. The last woman to do so was Nancy Lopez of the U.S. in 1978.
"It is premature to be overly excited about victory. I will do my best through the end of the season," Shin said.
Annika Sorenstam of Sweden and Kerry Webb of Australia monopolized the top player award between 1997 and 2006, while Ochoa took over three years ago.
Third-ranked Christie Kerr with 127 points could pull off an upset and win the award if Shin fails to make the top 10 and Ochoa the top four. This scenario, however, is unlikely.
Shin and Ochoa are tied for first in the number of wins with three each. Choi Na-yeon of Korea is third.
As for the Bear Trophy, Ochoa ranks first in low scoring average with 70.22, followed by Shin with 70.267. In the Tour Championship, 70 players will advance to the third round after the second, and only the top 30 from that pool can make it to the fourth round.
Many combinations of probabilities exist, but if Shin has four strokes fewer than Ochoa, she could overtake the Mexican golfer for the Bear Trophy.
kjs0123@donga.com