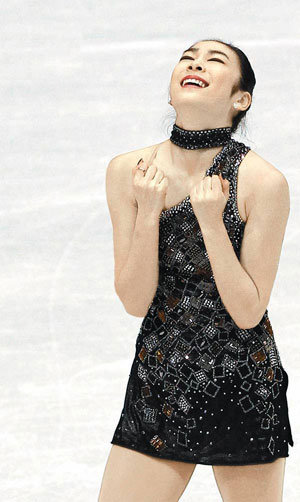 After finishing the short program of Skate America yesterday at Lake Placid, New York, world figure skating champion Kim Yu-na gasped for breath.
Amid bursts of camera flash lights, some 8,000 spectators cheered her with a standing ovation, with some shedding tears of joy. As her score came on the board, the rink was once again filled with roars.
○ Simply enjoying the show
Learning that she won with 76.28 points, breaking her previous world record of 76.12 set at the world championships in March, the 19-year-old figure skater looked as if she could not believe the result. Soon, she gathered herself and greeted spectators.
"I could not think about my score because I was so preoccupied with my performance," she said in an interview after her performance. "I was surprised to see that I set a world record."
Kim felt a great burden before the championship began because she had set world records in free skating (133.95) and overall score (210.03) at the season-opening Trophee Eric Bompard, in Paris last month.
"I was very worried," she said. "As the show began, I felt comfortable."
○ Unrivaled
Judges once again assessed that Kim was on a different level from other competitors. Goh Seong-hee, a judge in the individual women's competition, said Kim's performance was "perfect," adding that both her performance and technique left nothing to be desired.
Foreign judges usually do not talk about an individual competitor before a Winter Olympics, but made an exception for Kim.
After Kim set the world record, foreign judges, including one from Japan, congratulated her by clapping their hands.
Foreign journalists showed a similar response. Rachael Flatt of the U.S., who finished second with 58.50 points, said Kim was "great" and that she respected the Korean.
Kim and her Canadian coach Brian Orser were selected as carriers of the 2010 Vancouver Winter Olympics torch. Orser will run Dec. 17. Kim will run 300 meters in Hamilton near Toronto two days later.
The Internet edition of the New York Times said Saturday that if Kim wins the Olympic gold medal, she will become Korea's best athlete in history, along with Sohn Kee-chung, who won the marathon gold medal at the 1936 Berlin Olympics.
creating@donga.com