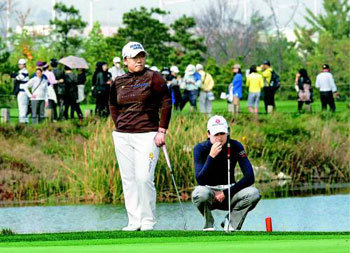 The Hana Bank Kolon Championship, the only LPGA Tour event held in Korea, began yesterday at Sky 72 GC Ocean Course (par 72) in Incheon.
With the season nearing its end, each of the 71 golfers in the tournament was on their toes in the fine autumn weather in search of victory. The event attracted more than 7,000 galleries despite being held on a weekday.
Shin Ji-yai played in the same group as Lorena Ochoa of Mexico and Cristie Kerr of the U.S. Shin's driving distance declined about 20 yards from early in the season due to her declining stamina. She recorded an average driving distance of about 220 yards yesterday.
On certain holes, her distance was 50 yards shorter than those of other competitors. Shin was always first to hit her second shot but put pressure on other players by bringing her ball closer to the cup than Ochoa and Kerr.
On the second hole (par 4, 377 yards), Shin hit a shot 170 yards from the cup but sent the ball to a spot only seven meters away by using a 23-degree hybrid club for her first birdie. She had five birdies and no bogeys.
She tied for third, trailing leaders Anna Grzebien, and Meaghan Francella (6-under 66) of the U.S. by one shot. "My driving distance compared to my competitors was smaller than I expected, and I didn't' have to use my No. 5 and 7 woods to hit the second shot," Shin said smiling.
Kerr tied for 16th (2-under 70), while Ochoa, who had trouble putting, tied for 45th (even 72).
Kerr suddenly shouted "Silence" in Korean ahead of her tee-shot on the seventh (par 5) because the galleries scrambled to take photos of the top three contenders for the LPGA Player of the Year award -- Shin, Ochoa and Kerr.
When trying to hit a bunker shot on the hole, Kerr failed due to noise from the galleries and threw her wedge. Tournament staff also worked in sloppy fashion and disrupted players while they tried to swing.
Shin said, "Other players told me to ask the galleries to stop taking photos due to shutter noise, and I felt embarrassed."
Vicky Hurst, 18, born to a Korean mother and an American father, had her first hole-in-one since her LPGA debut this year. She teed off with her No. 6 iron on the 12th hole (par 3) in hitting her double eagle.
Hurst is first in average driving distance (273.2 yards) this year in the LPGA. She said, "I eat kimchi frequently and this is the key to my long-distance shots."
kjs0123@donga.com