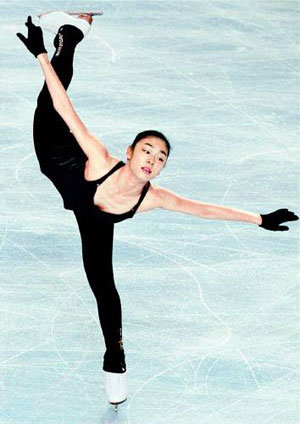 World figure skating champion Kim Yu-na, 19, held an open training session at the ice rink of Palais Omnisports de Paris Bercy in the French capital yesterday. She will open the ISU Grand Prix season at the Trophée Eric Bompard that opens today.
After her training session, a Japanese reporter said, "Kim Yu-na is sure to win. I'd like to congratulate her in advance since she'll win the gold medal at next year's Winter Olympics in Vancouver, Canada."
Many Korean and foreign reporters who watched Kim's open training session said they expect Kim to cruise to an overwhelming victory in the French competition.
She had been considered a leading contender in many previous championships, and this caused foreign reporters to sometimes tell their Korean counterparts, "Kim Yu-na is expected to win." These comments, however, were nothing more or less than sound bites or flattery.
The situation is different this time, however, as many reporters seem confident of Kim's victory after watching her training session.
A Japanese reporter who has covered figure skating for seven years said, "Kim Yu-na has shown the most stable performance I've seen so far. She's sure to win the title unless she falls twice or more."
Reporter Robin Ritoss of Skate Today of the U.S. said Kim's performance has increasingly matured, adding she truly has the competitive edge over her rivals, including Mao Asada of Japan.
Japanese TV broadcast live Kim's training in an unusual move.
Kim is ranked No. 2 in the global rankings. If she wins her six consecutive Grand Prix championship in Paris or beats top-ranked Carolina Kostner of Italy at this event, she will again be at the top of the heap after a five-month hiatus.
In addition, Lee Ji-hee will be the first Korean to serve as an official umpire for the Winter Olympics in Vancouver.
creating@donga.com