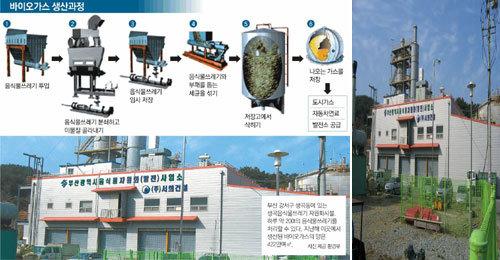 The government seeks to develop bio gas, or gas generated from waste, as an energy source similar to natural gas. Bio gas is produced when organic materials in garbage, animal waste and sewage dregs decompose.
○ Bio gas-powered buses
Bio gas is created by gathering and refining gas given off by waste. Some 60 percent of the ingredients of gas from waste is methane, an energy source for city and natural gas. A refining process eliminates impurities such as ammonia and sulfur compounds that cause foul smells, and results in the production of bio gas 95 percent pure.
Bio gas generates 8,500 calories per square meter, slightly lower than that of natural gas (10,400 calories per square meter).
Kim Mi-seon, researcher of bio energy research at the Korea Institute of Energy Research, said, "Bio gas is so effective, it can be used to power natural gas buses and be supplied as city gas right away."
The Environment Ministry is considering supplying bio gas by mixing it with city gas in certain regions.
In 2007, 33 facilities generated a combined 433.97 million square meters of bio gas. Of this, wastewater treatment facilities produced the largest amount of 21.96 square meters, followed by comprehensive treatment facilities for animal excrement and food waste (18.3 million square meters).
Four facilities using food waste and water from food waste generated 3.45 million square meters of bio gas.
The ministry plans to significantly increase the amount of bio gas by building 17 more such facilities, including 10 using food waste and seven using water from food waste.
The focus will be on facilities using food waste because it produces more gas. Lee Jae-deok, a ministry official in charge of energy production from waste, "One ton of sewage dregs produce about 30 square meters of gas, but the same amount of food waste generates 100 square meters. Food and waste water produce 50 square meters."
○ Benefits of bio gas
If the new facilities begin operations, food waste will generate 73.5 million square meters of bio gas every year, 20 times the amount of bio gas produced in 2007 under the same method.
Ministry official Lee said, "The amount is equivalent to 283,000 barrels of imported oil. This will save the country 26.2 billion won (21.2 million U.S. dollars) every year."
Bio gas generation will also help reduce garbage. The 17 facilities will process 1,598 tons of food waste and 2,540 tons of water from food waste per day. This means 11 percent of daily food waste and 56 percent of water from food waste flowing into the ocean will turn into energy.
To attain two advantages in one move, the government needs to do more, according to experts.
Lee Sang-yeop, a distinguished professor of biochemistry at the Korea Advanced Institute of Science and Technology, said, "Unlike fossil fuels, waste to be used for creating energy needs to be gathered from various places and transported to gas generation facilities."
"Therefore, logistics should be taken into consideration when choosing the locations for such facilities. To raise calories and methane concentration, more research is also needed."
takeoff@donga.com