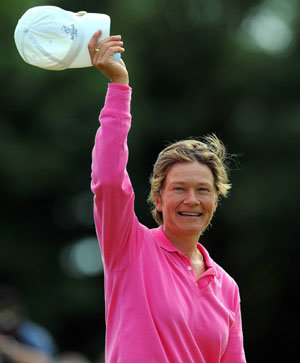 A saying goes that moms are stronger than ordinary women. A "super mom" won the Women's British Open yesterday.
Catriona Matthew claimed the final LPGA major of the season. Turning 39 Aug. 25, she captured her first major title just 11 weeks after giving birth to her second daughter in May.
She married Graeme Matthew in 1994 and gave birth to her first daughter in 2007. Her wrinkled face was carrying a happy smile while hugging her husband, who is her caddy.
"I just wanted to make the cut at this tournament," she said.
Though she resumed training only five weeks after childbirth, she could not practice a lot. Worse, her husband suffered a burn on his foot while escaping a building fire on the eve of the Evian Masters last week.
Yet she won because she stayed cool. Matthews was born in Scotland and said she felt comfortable at links courses. She played moderately. She fended off a rally by her competitors in the final round to become the third golfing mom to win a major title since 1960, following Nancy Lopez and Juli Inkster.
The LPGA has 32 active golfing moms this year who have a combined 47 children. Among Korean golfers, Han Hee-won, who married former baseball player Sohn Hyeok, has a son, and Gloria Park gave birth to her son in June. Kim Mi-hyun, who married judoka Lee Won-hee, is expecting her first baby in November.
The association provides professional nannies and nurseries at every tournament it hosts. Inkster, who has two daughters aged 19 and 15, said that when she married, she decided not to be separated from her family for more than two weeks. She said she has always been accompanied by her children before they go to school.
Among 120 seeded golfers in the LPGA, only Seo Ye-seon, Lee Ju-eun and Jo Yun-hee are married. Seo is also the only female golfer who has children.
In Korea, balancing marriage and golf is far from easy. Park Seon-ja, who was eight months pregnant when she won the KLPGA title in 1998, said, "I played to earn money. It's hard for golfing moms to find corporate sponsors. If you have no external support, you cannot participate in competitions."
kjs0123@donga.com