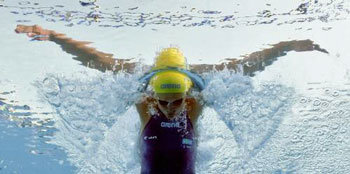 Korea's top swimmer Park Tae-hwan yesterday advanced to the semifinals of the men's 200-meter freestyle at the World Swimming Championships in Rome.
Park ranked third with a time of 1:46.53 in Group 13 of the first round at Foro Italico sports complex in Rome. Though falling short of his personal best of 1:44.85, which earned him the silver medal at last year's Beijing Olympics, he bested his time set at the Janet Evans Invitational of 1:47.43.
Paul Biedermann of Germany, who won the men's 400-meter freestyle with a world record time yesterday, ranked first in the 200 meters at 1:45.30. Olympic champion Michael Phelps of the United States advanced to the semifinals by winning Group 15 with a time of 1:45.60
Park`s result is somewhat disappointing but world records have been setting at the swimming world championships in Rome. Some said athletes would be affected by the swimming pool being outdoors, but they are breaking records.
Biedermann won the 400-meter freestyle title with a time of 3:40.07, breaking the world record held by Ian Thorpe of Australia (3:40.08). Wearing a full body suit, the German became the first gold medalist in this year's competition.
For the women, Sarah Sjostrom, 16, from Sweden set a championship record in her heat in the 100-meter freestyle at 56.44 seconds, beating the mark held by Holland`s Inge De Bruijn of 56.61. De Bruijn`s record had been the longest standing world swimming record at nine years.
Hometown favorite Federica Pellegrini of Italy won the women's 400-meter freestyle in record style, breaking the four-minute barrier at 3:59.15.
Park will also compete Saturday against Chinese rival Jiang Lin in Group 4 of the men's 1,500-meter freestyle.
yjongk@donga.com