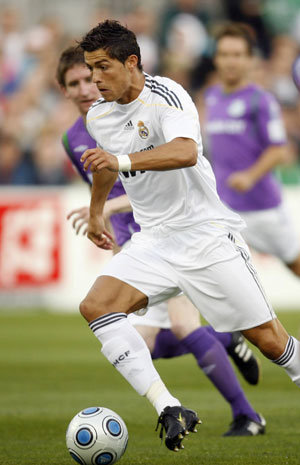 The 2009 Peace Cup soccer tournament has four groups each with three teams who will play qualifiers in the five Spanish cities of Madrid, Sevilla, Malaga, Huelva and Herez.
The winners of each group will play in the semifinals Aug. 1 and the final is set for Aug. 3 in Sevilla.
Real Madrid is the favorite to win the title this year. The team has won 30 Spanish Primera Liga and nine Champions League titles, and looks to add more silverware with the recent high-profile additions of Cristiano Ronaldo, Kaká and Karim Benzema.
The Peace Cup could be the first true test of how Ronaldo and Kaká will play together.
Italy`s 27-time Serie A champion Juventus is also a strong candidate. With Gianluigi Buffon, one of the world's best goalkeepers, and outstanding striker Alessandro Del Piero, Juve also has a number of weapons.
Also competing are Aston Villa of England; Olympique Lyon of France; Sevilla of Spain; and FC Porto of Portugal. Representing Korea is Seongnam Ilhwa.
Spain is in a festive mood because of the tournament. Friends there talk about who will win Peace Cup. Placards hung on every corner of the nation also reflect high Spanish interest in the event.
More than 70 percent of tickets have been sold out in Madrid, Malaga and Sevilla. Media has also paid much attention to the tournament, with around 600 journalists applying for credentials with the Peace Cup Organizing Committee.
An organizing committee member said, "We're also surprised by the explosive response. We'll make all-out efforts to maintain the festive mood until the last day of the tournament."
niceshin@donga.com