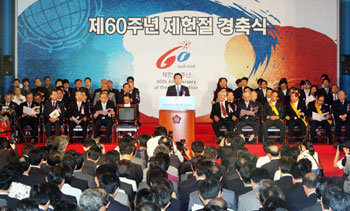 Some 1,600 government officials and lawmakers attend a ceremony to mark the 60th anniversary of the Constitution at the National Assembly yesterday.
National Assembly Speaker Kim Hyung-o, Prime Minister Han Seung-soo, Supreme Court Chief Justice Lee Yong-hoon, Constitutional Court Chief Justice Lee Kang-guk and National Election Commission Chairman Goh Hyeon-cheol attended.
In a congratulatory speech, Kim said, "The National Assembly should take the lead in uniting the people and act as a venue for resolving different opinions and conflicts."
To mark the occasion, events were held including a laser show, flower exhibition, KBS Open Concert, and a national flag-making event.
acm08@donga.com