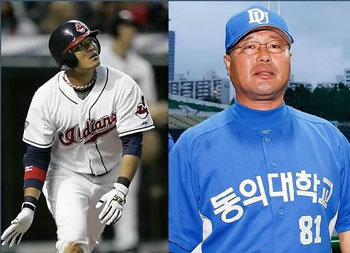 "I pay tribute to the late master with these homers."
Baseball star Choo Shin-soo of the Cleveland Indians has hit "homers of condolence" for his late manager across the Pacific. The player heard sad news Saturday just ahead of a home game versus the Oakland Athletics.
Cho Seong-ok, manager of the Dong-eui University baseball team who served as Choo's mentor at Busan High School, died of liver cancer.
After leading Dong-eui to the spring college tournament title in April, Cho was diagnosed with cancer. He died Saturday morning at age 48.
Cho was like a father to Choo, playing 12 seasons in the Korean pro league starting with the Busan Lotte Giants in 1984. Cho was named Busan High School manager in 1997 when Choo joined the team and helped the player develop into an all-around player.
Choo earned tremendous fame across Korea with his extraordinary skills in elementary and middle school. Nevertheless, Cho taught him how to become a good player the hard way. Choo said Cho was the type of manager who "never gave compliments no matter how good play he played."
Both also gave Korea the 2000 World Youth Baseball Championship in Canada. Choo then drew attention from Major League scouts after being named MVP and the best left-handed pitcher in the tournament, and joined the Seattle Mariners that year.
After hearing of Cho's death Saturday, Choo played as if paying tribute to his late mentor against Oakland. He went 4-5 and blasted the first successive homers of his career.
Choo hit his first "homerun of condolence" with a three-run shot in the fifth inning. As if one was not enough to honor Cho, he cracked another in the seventh.
After the game, Choo said, "Manager Cho was like my father who fully trusted me even when I struggled."
In the wake of his stellar performance, U.S. media and online bulletins saw a flurry of fan compliments for Choo, with comments such as a "truly versatile player" and "Cleveland's best."
Indians manager Eric Wedge said Choo is a great all-around player with the potential to become one of the best in the majors.
Against the A's yesterday, Choo started as cleanup hitter and at right field. He went 1-3 in a 5-2 win.
wing@donga.com