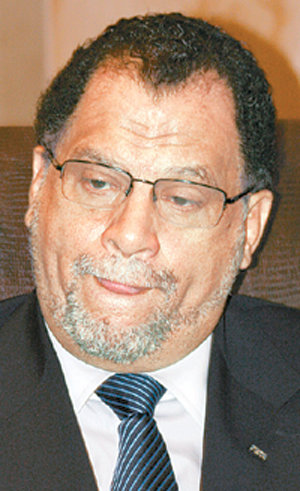 Soccer is more than a sport. It unites people and can resolve problems that politics cannot. Next year's World Cup finals in South Africa, the first to be held in Africa, hold more meaning than just a soccer event.
Danny Jordaan, the head of the 2010 FIFA World Cup Organizing Committee South Africa, 57, said, "Next year's World Cup will unite South Africa to eliminate the remains of apartheid and contribute to world peace."
Jordaan is overseeing everything about the World Cup and spoke to The Dong-A Ilbo at Michelangelo Hotel in Johannesburg's Sandton district yesterday. Though having given short interviews to Korean media, he gave an extended audience to Dong-A and released a blueprint for the World Cup.
The following is excerpts from the Dong-A interview.
Dong-A: A year remains before the World Cup. Are preparations going well?
Jordaan: I congratulate Korea's qualification for the World Cup. I still vividly remember the 2002 Korea-Japan World Cup. It was fantastic. We want something similar to the hundreds of Korean fans in red cheering for their team outside the stadium. We will help people unite next year in the way Korea did in 2002. We had 16 matches in the 2009 Confederations Cup and there was no problem. Stadiums are being built well. Five of them have been completed. All 10 stadiums will be complete by early next year.
Dong-A: What can South Africa get by hosting the World Cup?
Jordaan: First of all, building various infrastructures will develop South Africa. We are improving the airport and adding facilities. We are expanding roads and building 25 luxury hotels. Second, we can attract tourists. About 9.5 million people visit South Africa every year. The number will exceed 10.5 million nest year. Third, we can improve our national image. The world will see South Africa from a different perspective through the World Cup. Fourth, we will show the world that we are not just black and white. In this Confederations Cup, both black and white people filled the stands and chanted "Bafana Bafana (national youth team in the Zulu language)."
Dong-A: Both South and North Korea will play in next year's World Cup.
Jordaan: This is really fantastic. South and North Korea will meet for the first time in the World Cup. I am very pleased that this will happen in the South Africa World Cup."
Dong-A: It seems that the transportation system remains poor and accommodations lacking.
Jordaan: We introduced the Park and Ride Traffic System (parking a car at a subway station and then taking public transportation to alleviate the lack of parking lots). We had a bit of a problem, but it has been successful generally. We do not have enough accommodations, but I think there will be no big problem because we are building hotels, guesthouses and other facilities.
Dong-A: What about fears over personal safety?
Jordaan: Safety in South Africa has been proven by the Confederations Cup. We had no accidents in the tournament. Fans sang and danced and cheered while watching games. This proves that fans enjoyed soccer without caring for safety.
Dong-A: What has been the reaction of South Africans?
Jordaan: In a word, they are fanatic. Largely thanks to strong fan support, South Africa finished fourth in the Confederations Cup. "Bafana Bafana" united the people. This event gave hope to South Africans that they can pull off the World Cup next year.
yjongk@donga.com