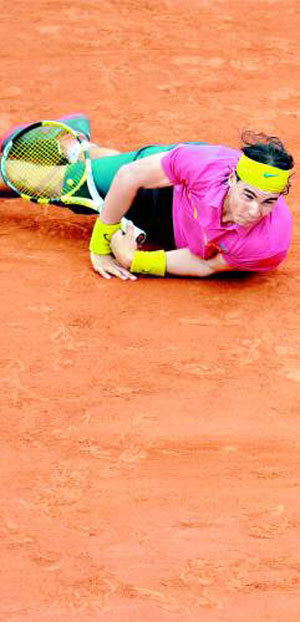 The world`s top-ranked male tennis player Rafael Nadal of Spain yesterday lost the first French Open match of his career.
No. 25 Robin Soderling of Sweden defeated Nadal 6-2, 6-7 (2-7), 6-4, 7-6 (7-2), spoiling Nadal's bid for a record fifth consecutive French Open title.
Soderling, who has lost to Korea's Lee Hyung-taik three times, used his huge forehand and serve to reach the quarterfinals of a major competition for the first time.
Nadal`s streak of winning the French Open began in 2005, when he debuted in the tournament, and had won 31 consecutive matches.
Nadal had even beat Roger Federer, who has been long considered the emperor of tennis, for three consecutive years in the French Open final.
The women`s defending champion also fell in the tournament, as Ana Ivanovic of Serbia lost to Victoria Azarenka of Belarus 6-2, 6-3.
kjs0123@donga.com