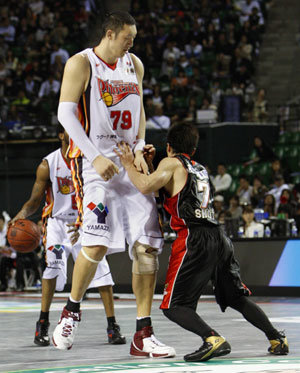 Korea's tallest basketball player Ha Seung-jin (7-feet-3 or 222 centimeters) has never faced a player taller than himself. He could soon see that opportunity at the Asian Basketball Championship in August.
Sun Mingming of China is considered the world's tallest basketball player. The 26-year-old center, who was born near Harbin, is 7-feet-9 or 236 centimeters tall and weighs 160 kg.
Sun is taller than the U.S. NBA's tallest player and compatriot Yao Ming (7-feet-five or 229 centimeters) and former North Korean center Ri Myung-hun (7-feet-nine or 235 centimeters).
The Chinese can easily hold the rim just by raising his footstep.
The record for the NBA's tallest player is held jointly by Gheorghe Muresan and Manute Bol (7-feet-9 or 231 cm tall each).
Formerly a member of China's youth team, Sun almost died due to a tumor in his pituitary gland but recovered after surgery. He went to the United States in 2005 to realize his hoop dream.
He played in the minor leagues, but failed to sign with an NBA team due to a lack of physical strength and speed.
Sun also had a bit part in Jackie Chan's movie "Rush Hour 3" in 2003 due to his height, and joined the Japanese pro league last year after playing in Mexico.
He helped the Higashimikawa Phoenix of Japan finish third in the playoffs after leading the team to the Eastern Conference title this season.
Sun had 67 dunks and 280 rebounds in 49 games, averaging 7.7 points. He returned to his hometown for the first time in two years after the end of this season.
"I will play for at least 10 years. I am the happiest when I play basketball," he told the Associated Press.
kjs0123@donga.com