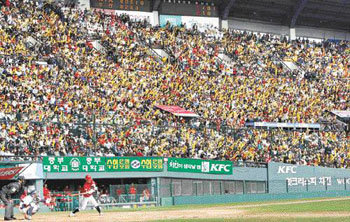 Riding the wave from Korea`s runner-up finish at the World Baseball Classic, baseball stadiums in the country have broken a record for attendance on opening day.
A combined 96,800 fans packed four stadiums Saturday: 30,500 at Jamsil Baseball Stadium; 27,800 at Incheon Munhak Stadium; 28,500 at Sajik Stadium; and 10,000 at Daegu Stadium. The previous record was set in 2004 with 83,253.
The all-time record came on April 5, 2005, when Jamsil, Munhak, Sajik and Daejeon stadiums drew a combined 101,400 spectators.
Yesterday saw a combined attendance of 85,499, the sixth largest in the Korean league`s 28-year history.
why@donga.com