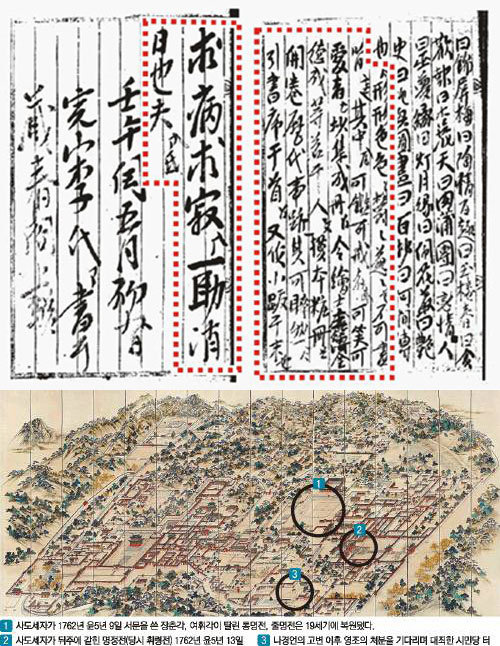 Joseon Dynasty Prince Sadoseja read many Chinese novels such as "Journey to the West" and "The Golden Lotus" and Roman Catholic books banned by the Joseon king, the National Library of Korea said yesterday.
This was found in the preface of an album containing copies of historical Chinese paintings stored in the library. The preface was confirmed as his last handwritten note four days before he was placed in a small rice container at age 27 in 1762, the 38th year of his father King Yeongjo's reign.
Experts had assumed the writer of the preface was a person surnamed "Lee" from Wansan (present-day Jeonju). Consequently, the writer was thought to be King Yeongjo's daughter Princess Hwawan.
"We compared the preface of the album containing 128 pictures of scenes from 13 Chinese novels, including "Journey to the West" and "Water Margin" with those in Prince Sadoseja's posthumous literary compilation and his wife Hye-gyeong Hong's memoirs 'Hanjungnok.' We confirmed that the preface was personally written by Sadoseja," said Jeong Byeong-seol, professor of Korean literature at Seoul National University.
Jeong plans to publish his findings in the summer edition of the quarterly Literary Work and Interpretation.
According to the preface, Sadoseja asked a royal painter to make the album for future generations in the belief that lessons can be found in novels not in line with classic Confucianism. He mentioned 13 Chinese novels whose scenes were contained in the album in addition to Roman Catholic books, including a direct translation of the Bible, and romantic novels.
The preface is divided into "Seo," in which Sadoseja introduced the novels and said they were helpful in overcoming disease and solitude, and "Soseo (sub Seo)," in which he listed 83 novels and Roman Catholic books he read and mentioned that he asked the royal painter Kim Deok-seong (1729-1797) to paint scenes from the novels.
The prince also mentioned that they were written in Changchun and Yeohui pagodas at Changgyeong Palace on May (leap month) 9, 1762.
"The preface is definitely handwritten by Sadoseja. It is of exceptional quality among his works. It should be registered as a national cultural property," said Sohn Hwan-il, professor of calligraphy history at Kyonggi University in Seoul.
zeitung@donga.com