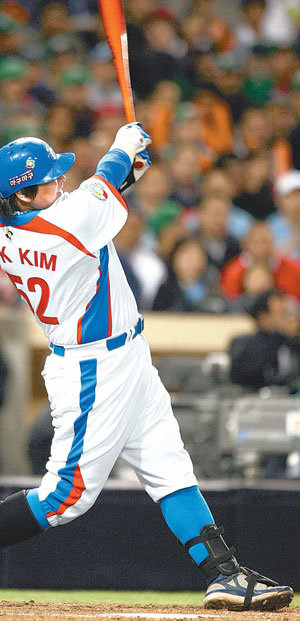 The national baseball team began the second round of the World Baseball Classic yesterday with an impressive 8-2 win over Mexico.
In San Diego's PETCO Park, the Koreans hit three solo homeruns to overpower the Mexicans, who had hit 12 homers in the first round. Korea also had 12 hits in the game.
In 2006, Korea also beat Mexico 2-1 in the tournament's opening game as Lee Seung-yeop hit two homers.
Korea has won all four games against Mexico since 1998, when professionals were allowed to play in international competition.
Yesterday, Mexico struck first, getting three hits and scoring two runs off of Korean starting pitcher Ryu Hyun-jin in the top of the second inning.
Korea tied the score in the third thanks to Lee Bum-ho's solo home run and Lee Yong-kyu's base running.
The biggest contributor to Korea's victory was slugger Kim Tae-kyun, who hit a solo home run deep to left field off Mexican starter Oliver Perez, who won 25 games for the New York Mets over the past two years.
After the game, Kim said, "After hitting into a double play in the first inning, I thought it would be tough to win the game. But we won thanks to our pitching and hitting."
The first baseman went two for five with three RBIs and two runs scored. He has proven to be an able replacement for Lee Seung-yeop, who opted to skip the tournament, by hitting .421 with nine RBIs, two homers and six runs scored through five games.
After resting for a day, Korea will play Japan at noon Wednesday Korean Standard Time.
why@donga.com