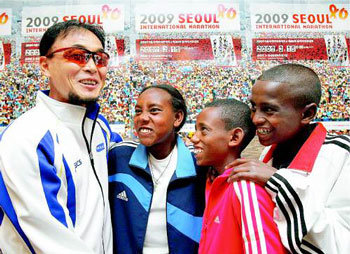 "Lee Bong-ju, berta (go in Ethiopian)!"
Young Ethiopian marathoners showed their excitement after meeting the Korean marathon champion. They clapped energetically and rooted for him Ethiopian style.
They became more surprised after hearing that they were sitting with the silver medalist at the 1996 Atlanta Olympics.
Lee, who will finish his illustrious career in tomorrow's Seoul International Marathon, also said, "Never give up, no matter how challenging the run is," as he cheered the young Ethiopian runners and held their hands.
He met three promising young marathoners from Ethiopia at the Seoul Plaza Hotel in central Seoul yesterday: Basahdu Diva, 14; Capital Degeba, 13; and Zeneve Ketema, 11.
All three came to Korea under the Hope Ethiopia Project. Launched in April last year, the project is a campaign seeking to foster promising young Ethiopian runners in the Arsi region of the African country.
The campaign is sponsored by The Dong-A Ilbo and World Vision, an international humanitarian organization.
Diva is a next-generation star who has won the 100 and 200 meters at the Ethiopia Hope Marathon and Athletic Competition. The event was hosted jointly by Dong-A, World Vision, and the Arsi regional government March 6 to mark the 80th anniversary of the marathon and the first anniversary of the project.
Arsi is the hometown of world marathon record holder Haile Gebrelassie; Africa's first female gold medalist Derartu Tulu, the 1992 and 2000 Olympic champion at 10,000 meters; and last year's 5,000 meters Olympic gold medalist Kenenisa Bekele.
Gebrelassie dreamed of being the world's best while running barefoot as a young boy in the region.
The young runners overcame many obstacles on their way to Korea. The Ethiopian immigration office suspected something because of their young age and delayed their departure. They managed to arrive in Korea five days behind schedule.
Diva said, "I feel my dream is gradually coming true. I want to visit Korea again as a big name runner," adding, "I am very grateful for getting this chance."
Lee won the 2007 Seoul International Marathon after meeting three young promising runners from Kenya, who were invited by Dong-A ahead of the competition. He trailed more than 30 meters behind but won the race in a dramatic photo finish.
Having met three promising young runners again, this time from Ethiopia, Lee said he hopes to raise the same excitement in this year's competition. "After meeting the three children who are cultivating their dreams as runners, I feel energized. This will be the last marathon of my career, and I will exert every effort."
hanwshin@donga.com