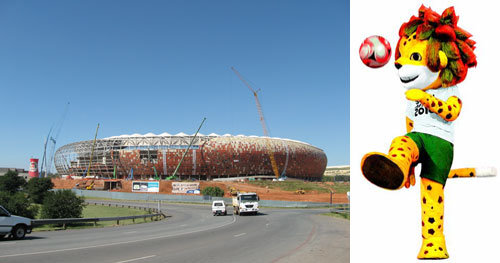 The first World Cup soccer finals to be hosted in Africa are 16 months away.
Host country South Africa, which is suffering from interracial conflict, a huge gap between the rich and poor, and social instability, wants to use soccer's grand event to integrate its society and make progress.
When the country was selected as host in 2005, Former South African President Nelson Mandela said his country is capable of hosting the event, adding it is needed to redress racial discrimination.
○ Soccer City Stadium
A grand stadium on a vast land is 25 minutes southwest from Johannesburg International Airport.
Soccer City Stadium is where the World Cup's opening ceremony and final match will take place.
Built in 1987 with 80,000 seats, the facility will be able to hold 94,700 people as a main stadium when a major upgrade is completed at the end of the year.
The dynamic stadium required some 10 large cranes and excavators to build it. Brown and yellow mosaic tiles were attached to the steel structure of the traditional pottery-like stadium.
Each tile seemed to represent every moment of the country's tumultuous, from colonial rule by European powers in 1770s to the implementation of apartheid in 1948 to the first democratic election that produced President Mandela in 1994.
South Africans are proud of the stadium. "I am very happy to see the World Cup we hoped for," a construction supervisor said. "I will do my best to complete construction by the end of this year."
○ Challenges for a successful World Cup
The South African government predicts some 350,000 soccer fans and tourists will visit the country for the World Cup next year.
The problem is security. Theft and robbery are common in the city center even in broad daylight. Even residents are reluctant to go out.
Staying at home is not safe as well. The ethnic Korean community in South Africa suffered 17 robberies last year.
Another obstacle is the extreme gap between the haves and the have-nots. While rich villages have luxurious illumination, countless panhandlers beg for money or cigarettes.
The South African government is seeking to use the event as a means of alleviating its problems. It gave construction workers two tickets each and designated the lowest ticket price at 140 rand (14 U.S. dollars) to encourage participation by the poor.
hic@donga.com