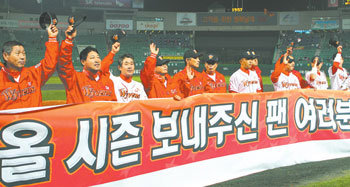 Pro baseball in Korea this year has seen an amazing regular season, breaking records for attendance and player achievement.
The SK Wyverns closed the regular season on top for the second year in a row, followed by the Doosan Bears (second) and the Lotte Giants (third). The tight race to close the season was a hit with the fans.
Through Saturday, 5,244,679 fans this season flocked to ballparks, second only to 5,406,374 in 1995.
The Giants made the postseason for the first time in eight years. The franchise sold out 21 out of 63 home games and sold a combined 1,379,735 tickets, breaking the 1995 record set by the LG Twins of 1,264,762 tickets.
▽ Outstanding rookies
Kim Hyeon-su, 20, of the Bears was the league's top performer this year, finishing with the highest batting average (.357), most hits (168) and highest on-base percentage (.464). He joined the team's practice squad in 2006.
Samsung Lions coach Han Dai-hwa praised Kim, saying, "Kim can hit anything from any pitcher. He's a talented guy."
Wyverns pitcher Kim Gwang-hyeon, another outstanding 20-year-old rookie, had a season as dynamic as his pitching form. He led the league in wins with 16 and strikeouts with 150.
He just missed the pitcher's Triple Crown to the Kia Tigers' Yun Seok-min, who had the lowest earned-run average after pitching seven shutout innings Saturday.
The two rookie Kims made their mark as Korea's stars of tomorrow at the Beijing Olympics, spearheading their national team's hitting and pitching.
▽ Veterans still up and running
Jeon Jun-ho of the Woori Heroes played in his league-record 2,000th straight game June 7. He has never missed a game since his pro debut with the Lotte Giants in 1991.
He also recorded his 2,000th hit September 11 game against the Giants, the second player to do so in Korea after Yang Jun-hyeok of the Lions. Jeon's latest record was his 100th triple in a game Friday.
Song Jin-wu of the Eagles notched a record 2,000 strikeouts June 6. On September 23, he became the oldest pitcher in league history to win a game at age 42 years, seven months and seven days.
The Lions' Yang, the league's career hitting leader (2,202), extended his streak of 100-hit seasons to 16 September 18.
The Bears also won the league's longest game since the abolition of ties, beating the Eagles 1-0 in the 18th inning. The contest took five hours and 45 minutes and saw the most strikeouts (38) in a game.
beetlez@donga.com