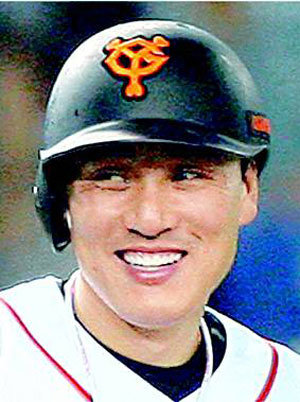 Baseball slugger Lee Seung-yeop of Japan`s Yomiuri Giants has regained his form after struggling in the Beijing Olympics.
Against the Hanshin Tigers at Koshien Stadium Saturday, the first baseman went three-for-three in Yomiuri's 3-2 win, scoring one run and driving another in.
His on-base average was 100 percent with a walk and his batting average rose to .189 from .155.
In the three games after rejoining his Japanese pro team, Lee has hit .500 in enjoying a resurgence. He hit a homer in the Olympic semifinal against Japan and another in the final against Cuba that gave Korea its first and only Olympic gold in baseball.
Against the Tigers, Lee drove in a run with a hit to right field. He had a single in the sixth and later scored, adding another hit in the eighth.
Giants manager Tatsunori Hara said, "Lee is a lucky boy. I`ll keep him as the No. 5 hitter. I'm counting on him a lot."
hic@donga.com