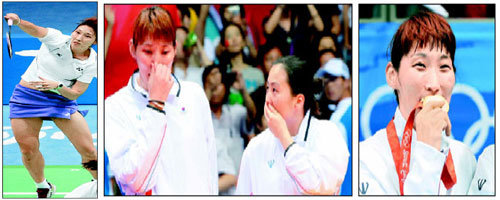 Lee Hyo-jung usually answers her cell phone, but turned it off this day.
"Too many phone calls made the battery die."
The 27-year-old is undergoing a pleasant hassle after winning the gold medal in the mixed doubles in the Beijing Olympic badminton final. Her partner Lee Yong-dae, who is now dubbed "winking prince," has charmed the whole nation
Lee Hyo-jung is now known as Yong-dae's partner rather than herself.
Still, the female badminton star said, "I returned Monday to find Yong-dae a superstar. Some ladies might dislike me just because I am his partner. I don't care. This will also help people know more about badminton. That's all I care about."
She used to be 10 percent short of perfection. Standing 181 centimeters high, she lacked persistence. When it comes to personality, she is not that different in seeming just innocent or somewhat naive.
Lee Hyo-jung, however, has a sore spot in her mind. Her father has been in and out of hospital since a car accident 10 years ago. Moreover, her family is barely alive financially.
In Beijing, she and women`s doubles partner Lee Kyung-won made the Olympic final, but Lee Hyo-jung made mistake after mistake. Gil Young-ah, who won the gold medal in mixed badminton doubles in the 1996 Atlanta Olympics, said, "She seems to have gone there to ruin the game. I didn't get it."
Lee Hyo-jung said, "I wanted a medal more in the women's doubles. I was pretty confident. In the March British Open, we defeated the Chinese team three times, and advanced to the final." When her mentor and partner Lee Kyung-won suffered an ankle injury and was treated twice during the match, Lee Hyo-jung lost herself.
"Looking at my partner's best performance despite the injury, I thought I should do more. That was why I ruined my part," Lee Hyo-jung said.
Settling for the silver, Lee Hyo-jung sobbed in her partner`s arms. She made a turnaround two days later, however, in teaming up with male player Lee Yong-dae, who is seven years younger than her. Near the net, she outpaced her Indonesian opponents and wielded heavy strokes from the rear.
Wearing her long-awaited gold medal, Lee Hyo-jung said, "I am kind of tall. Watching me lie on the court, people may laugh at me. I couldn't lie."
Lee Hyo-jung is devoted to her parents. She saved most of her paychecks to buy them an apartment in Busan. Though wearing contact lens due to her poor eyesight in the match, she carries four to five pairs of glasses when she goes out.
She used to say, "Only if I had a boyfriend," at Christmas parties every year.
Now, Lee Hyo-jung is one of the top players on the Korean badminton team and the world. "I feel I upgraded myself through the Olympics. I will play in the Taiwan Open beginning Sept. 7. I feel I have higher expectations to meet. I have to start anew, and Yong-dae and Kyung-won will feel the same," she said.
kjs0123@donga.com