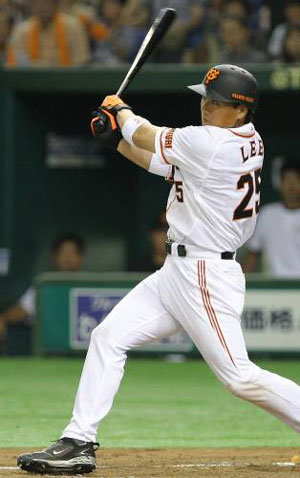 In the bottom of the sixth inning and his team ahead 3-0 yesterday, Lee Seung-yeop of the Yomiuri Giants went up to the plate.
His face was stiff after returning to the Japanese major leagues after 201 days. Lee had gone 0-8 in the three games since being called up from the minors.
With the count at two balls and a strike, Lee hit an inside fastball from Yakult Swallows pitcher Ryo Kawashima. The ball traveled through the air like a bullet and landed on the screen behind the center fence of the Tokyo Dome.
Watching his ball trajectory for a long time, Lee came home and his manager patted the slugger on the back to congratulate him.
The homer had been a long time coming. Lee recorded his first round-tripper of the season at home and the first since returning to the Japanese majors. His last major league homer had come Oct 2. last year, also against Yakult.
Lee started at first base and batted sixth. He struck out in the first in stranding runners on first and second, and grounded out in the third.
His fateful moment came three innings later. Upon hearing the crack of Lee's bat, Kawashima dropped his head in dismay.
SBS commentator Baek In-cheon said, "Lee waited for a fastball. His swing form has come back."
After the game, Lee said, "It's been a while. I don't really feel anything now. I trained a lot down in the minors. I think it helped me a lot. I don't want to miss any more chances."
Lee finished the game 1-4 with one run batted in his team's 7-0 win, and raised his batting average from 0.121 to 0.129.
Fellow Korean and Yakult closer Lim Chang-yong did not play in the game.
beetlez@donga.com