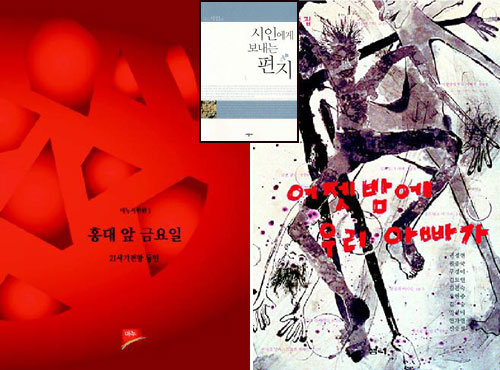 An age of coteries has ushered in again.
Literary coteries, which had been weakened during the 1990s, began reappearing in 2000 and now are in the full swing.
After its 10-year or so hiatus, a literary coterie, "The 21st Century Prospect," reinvented itself late last year and published a new magazine. Young experimental writers, such as novelists Han Yu-ju and Kim Tae-yeong and poets Choi Ha-yeon and Song Seung-hwan, have recently established their own literary coterie "Lu." Some talented literary men, including novelists Jeong Yeong-mun, Park Seong-won and Ahn Seong-ho and literary critics Kim Hyeong-jung and Sohn Jeong-su, also got together and set up their literary club "Daechung."
With these coterie activities in full bloom, "Moonji Cutural Institute Saii" plans to hold the "Festival for Literary Coteries," every Saturday through Nov. 1 to provide a place where coterie members can meet with readers.
Literary coteries, which help writers pursue the same literary values and strengthen a sense of community, played a critical role in Korea's modern literary history. Along with "Changjo" (Creation, first published in 1919), the first literary coterie magazine, "Pyeheo" (The Ruins) and "Baekjo" (White Tide) revitalized the then literary world with the theme of enlightenment and romanticism in and around 1920 when modern literature was born. In the oppressive 1980s when various periodicals were forced to discontinue issuing, the literati communicated with their readers through a medium of mook, an irregularly-published magazine-like book, including "Siundong" (Poem movement), "Bansi" (Anti-poem), "Poem and the Economy" and "Literature of Our Generation."
However, those activities gradually disappeared in the 1990s. As market principles dominated the literary circle, star writers gained ascendancy over those involved in experimental literary movements.
Some liken the reemergence of literary coteries beginning in 2000 to an "indi-band" that confronts commercialism. As novelist Lee In-seong, an architect of the Festival for Literary Coteries, aptly pointed out, "At a time when a few commercially successful writers dominate literary circles, those who pursue literary values that are independent of capital and the market are engaged in literary coteries in a bid to assert themselves."
Poet Ahn Hyeon-mi of literary coterie "Bulpyeon" (Inconvenience) recalled the time when young, like-minded poets who had received less attention got together at the end of 2002 and started reading one another's poems. That's how the coterie was created. Since then, it has been viewed as a group which engages in an experiment that is extreme and beyond understanding and recently triggered a controversy among critics.
"Jakeop" (Work), founded in 2000 by young novelists, such as Gu Gyeong-mi, Kim Soom and Oh Hyeon-jong, is in communication with readers by publishing two collections of short stories under one theme. "Sihim" (The Power of Poetry), a representative of lyric poetry, is drawing renewed attention since Mun Tae-jun, Kim Seon-woo and Lee Byeong-ryeol, who joined after 2000, rose to stardom.
Critic and poet Gwon Hyeok-ung, who belongs to "Cheonmong" (Heavenly Dream), said, "Revitalized coteries since 2000 show how much our literary world has developed and where we stand." In other words, coteries to which some like-minded people flock together demonstrate diverse literary activities.
However, some in the literary world say that if those literary coteries want to bring freshness to readers, they should do their best to meet readers' expectations. "Literary coteries' activities are often limited to inside gatherings to discuss literature and give critique to one another. But they need to communicate with the outside world by creating their own medium and arranging events to meet with readers," said novelist Lee In-seong.
kimjy@donga.com