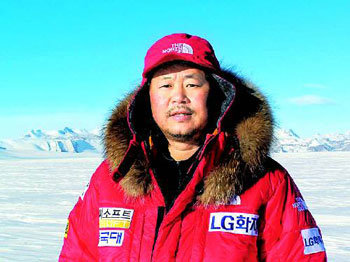 "You don't need to know my name. I only want the world to know that a Korean has accomplished this feat," said 42-year-old mountaineer Park Yeong-seok after reaching the North Pole on the morning of May 1.
With his North Pole conquest, Park achieved the "mountain climber's grand slam": ascending the 14 highest Himalayan peaks over 8,000 meters, the seven summits of the world, and the two poles.
Messner of Italy, the first man ever to climb all 14 Himalayan peaks, tried and failed three times to accomplish the mountaineer's grand slam because he could not reach the North Pole.
Park succeeded.
The mountain climbing and adventure website Everestnews.com posted a headline on June 9 reading: "Park Yeong-seok: the first man to accomplish the mountaineer's grand slam," after tracking Park's adventure for a month to verify his feat.
Park's path was not always a successful one, however. He started his life of adventure in 1989 with an ascent of the Himalayan peak of Langshisha Ri (6,427m). But he only succeeded in 18 out of 31 Himalayan ascents.
But quitting never entered his mind. The motto he always carries with him for inspiration is: "Never give up when you see a one percent chance of making it."
Chang Jeon jeon@donga.com