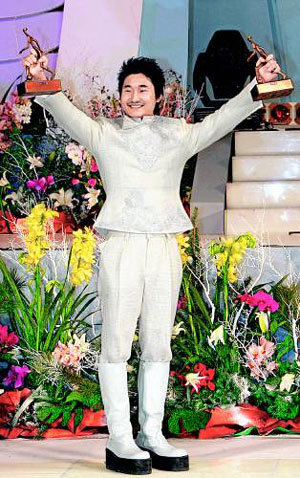 Tears welled up in 24-year-old Lee Chun-soo's eyes as he was called up to the stage to receive this year's K-League MVP award.
"Mom, Dad, I love you," he said, his voice trembling.
A lot was passing through his mind yesterday at the Hongeun-dong Grand Hilton Hotel in Seodaemun, Seoul where the 2005 Samsung Hauzen K-League Grand-Prix Award ceremony was being held.
Ulsan Hyundai's Lee got 41 votes out of 73 cast by sportswriters around the country to beat out 20-year-old FC Seoul star Park Joo-young for title of K-League MVP and a 10 million won check.
Lee, a national team member in the 2002 Korea-Japan World Cup, was the biggest soccer star in Korea when he signed with a team in Spanish Primera Liga. However, he failed to adapt to the Spanish league, was rented out to another team, and was finally sent back to Ulsan in the middle of the season.
After returning to Korea, he spent time on things other than soccer, arousing suspicions that he might never get his game back on track.
But Lee "the daring" tightened his laces and vowed he would play in the big leagues, again just like Park Ji-sung of Manchester United.
Lee did more than pick himself up. He scored a hat trick in August in the championship final for Ulsan, bringing Ulsan to the top for the first time in nine years. Lee recorded seven goals and five assists in both regular league and playoffs.
It is not as impressive as the run Park Ju-young had this season: 18 goals and 4 assists in both cup games and regular league.
But the MVP electorate comprised of sports journalists valued Lee higher for his selfless play and the key role he played in taking his team to the top: that's the kind of compliment that's worth every teardrop.
"I almost faded away into the memories of my fans. But it was thanks to their love that I was able to get back on my feet," he said. "I am so happy, and I won't let them down ever again."
Lee did not forget to add that he was sorry to have to take the award away from Park Ju-young, who had an incredible run this season.
Jong-Koo Yang yjongk@donga.com