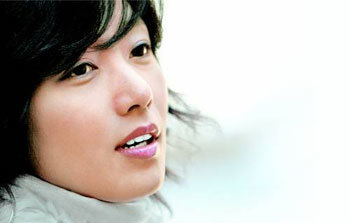 Actress Jang Jin-young is afraid to go to amusement parks because she is afraid of heights. But she recently found herself flying above the clouds in the open cockpit of an old-fashioned biplane.
Jang is a self-professed "homebody," and can often be found at home reading and cooking. But she has had to pack and unpack without pause as of late to visit various countries such as the U.S., Japan and China.
Jang is playing Park Gyeong-won, Korea's first female commercial pilot, in the film "Blue Swallow" directed by Yoon Jong-chan. It is a rare Korean aviation movie and has been the focus of attention thanks to its 9.7 billion won budget and the fact that an actress is playing its single lead character.
Jang sat down with this Dong-A Ilbo correspondent at a Samcheong-dong café, Seoul on December 23 to talk about her role and the film.
When this correspondent began by telling her that she must have been under a lot of stress, she didn't show much of a reaction. She may have emptied all her energy into the movie.
"I did all that I could do. Of course, I can't tell you that I feel no pressure at all about ticket sales at the box office. I just hope that the director Yoon's passion for the movie is rewarded. This movie has been his life for the past three years," Jang said.
She has an unwavering trust in Yoon, whom she met for the first time in "Sorum," the movie that put her in the spotlight. She says that she is not a person who easily opens up to others. Instead once she builds a relationship with someone, she prefers to have a long and deep relationship.
"When I saw the movie premiere, I was reminded of how hard and difficult it was to shoot each and every scene. The most moving part for me was when I watched the names in the credits, all of whom became so close to me, on the screen at the end of the movie."
Scenes from the movie demonstrate how hard the actors, actresses and staff worked to shoot scenes in foreign countries for an extended periods of time, and airplane scenes in bad weather. In particular, Jang's brilliant and powerful performance as her character endures grueling flight drills in a biplane rotating 360 degrees for 10 hours a day is overwhelming.
"At every moment, I was pushing my limits. My experiences as Park Gyeong-won taught me a lot and made me work even harder to live my life to the fullest. I am not strong. I give up easily and I become frustrated in the face of challenges. I'm not trying to say that I have problems with my personality (laugh). But I'm not a very optimistic person. In contrast, Park single-mindedly pursues her dreams, against all odds. She traveled to Japan alone with no money at the age of 17 and obtained her pilot's license in eleven years. I was sometimes jealous of her because of how different her qualities are from mine. And at the same time, I was worried. I wondered how I would be able to portray her desperation, hard-working spirit, and cheerfulness."
Her concerns turned out to be misplaced. She breathes life into her role as a female pilot under Japanese colonial rule who risked everything she had without fear to achieve her goal; flying the sky like a bird.
"I hope that audience can relieve their thirst for dreams and love as they watch a woman who desperately pursues her dreams and love. And I hope that the movie can give audiences the courage to live a stronger life."
The Story of Blue Swallow-
Blue Swallow, which was shot in Korea, Japan, China and the U.S., is well made and strikes a balance between a dramatic storyline and entertaining elements. Credit for this goes to the producer, who had the courage to try a new theme and achieve good results.
The movie is centered two pillars: Park (played by Jang), a female pilot from a true story, has a desire to fly the sky, and she falls in love with Han Ji-hyuk (Played by Kim Ju-hyuk), a fictional weather officer.
The movie's airplane scenes are also fascinating. The airplane scenes are realistic and powerful, in part because the movie used a real biplane, not a model plane, for its action scenes.
The movie's most moving scenes are those about the Japanese flight competition, which Park won, and the last long-haul flight to her home country where she faced her tragic end.
The movie also recreated Japanese cities and costumes in the 1930s very successfully, adding to the visual satisfaction.
Along with these spectacular scenes, the movie boasts of a solid storyline such as the romance between Park and Han, great production values, and brilliant performances. The only regret is that doesn't communicate with public well, even though it shows a high level of perfection. That could be because the movie tries to put too much emphasis on every scene.
In addition, Park's ambiguous political stance, which is neither in support of nor against Japan, is another element that causes confusion, even though the director has explained that he wanted to portray an ordinary human being, not a heroine, who pursued different dreams than others did.
The movie will open December 29 and is rated for ages 12 years old and up.
Mi-Seok Koh mskoh119@donga.com